Blog Posts
"Planning for a crisis": It almost sounds like an oxymoron. But as we grow older, it becomes a matter of practicality. Yes, we'd all like to think that we will be healthy and able-bodied
News Releases
Lynn Satterwhite is February featured artist at RWC Deltaville artist paints landscapes, animals, portraits Deltaville artist Lynn Satterwhite is tickled by her new-found talent with acrylic paints – and especially
JLyn Henderson 'Faces Off' at RWC's January Show Deltaville artist focuses her mixed media work on women with attitude With a life-long interest in doodling, drawing and painting women's faces,
Lancaster Middle School celebrates 20 years of exhibiting in RWC's December Show Teacher Marilyn Sprouse has proudly curated students' work since 1999 Lancaster Middle School (LMS) visual arts teacher Marilyn
Military veterans are the stars in RWC November show Get to know RWC residents who served in U.S. Armed Forces Navy Capt. (Ret.) Larry Treadwell In typical Silent
Holocaust Diary Book Author Coming to RWC Oct. 20 Retired North Carolina attorney became a full-time writer in 2014 Timothy Boyce is out on a book tour promoting his new
Upcoming Events
At RWC, you can do as little or as much as you want.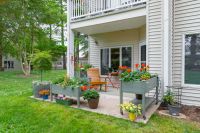 Solution Seminar: Medicare and Long-Term Care Insurance
Join us at 11 a.m. Sept. 8 in the RWC Auditorium to hear from Lisa Walker, vice president of Advocacy Resources with Bay Aging and Wade Bishop, chief financial officer with Rappahannock Westminster-Canterbury to learn more about Medicare Open Enrollment and Long-Term Care Insurance (LTCI).
You'll learn more about:
The different types of Medicare coverage
Benefits of each type of coverage
Tips to help you determine what choice is best for you
Different variables of long-term care insurance
How LTCI can work with contract options at RWC
RSVP by calling 804-438-4877 or emailing us by Sept. 1. Reservations are required and seating is limited.
Click around on our CALENDAR to see what may be coming up or of interest.  The calendar is full of activities on and off campus.
Resources
Surveys — Find out if RWC is a good choice for you
Take this quick 4-5 minute survey to find out which options for the next stage of life are the best fit for you or your family.
Answer 7 questions to find out if RWC is a good financial fit for you!