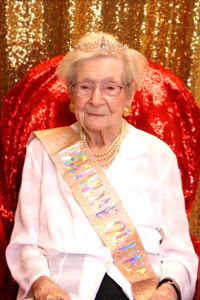 Born in Lancaster County when Woodrow Wilson was president and World War I was well under way, Rappahannock Westminster-Canterbury resident Mrs. Irma Burke celebrated her 107th birthday on Sept. 25.
Recently moving to the RWC Health Center after falling and fracturing her hip, Burke is now in a wheelchair but enjoys chair exercise regularly as well as other fun physical activities such as noodle ball.
Her daughter, Catharine Burke Moore, said that her mother never contracted COVID-19 because she realized the necessity of the precautions taken by RWC.
"She did not complain and RWC staff did an exceptional job of increasing in-house activities keeping residents entertained," Moore said.
Burke grew up in a house with no telephone, no television, nor even electricity early in her life. "My mother's first cousin graduated from VPI, so thanks to him, we finally got a Delco Motor because there were no electric lines in the county back then," she said in an interview marking her 100th birthday in 2015.
An 18-year resident at RWC, Burke said in 2015 that she enjoyed reading, crocheting, gardening, bird watching, Bible study and especially taking part in fitness classes as part of RWC's wellness initiative.
Burke said that her secret to longevity is staying active. From running around the fields of her family farm as a young child to now, exercising regularly – even in a wheelchair, she has always been active and believes that has played a big part in allowing her to remain involved in all the things she loves to do.
RWC residents Edna and John Roberts said Burke was the first person they met when visiting the area. "We came in the 1960s and Irma's husband owned the Esso station in White Stone," John Roberts said. "She gave us a warm Northern Neck welcome. It's amazing that she is celebrating turning 107."
Prior to moving to RWC, Burke was born and raised in White Stone, Va. Burke has enjoyed a loving marriage of 26 years, a career in banking, a daughter and a grandson. She volunteered at Rappahannock General Hospital for 27 years and logged more than 12,000 hours.
Share This Story, Choose Your Platform!