Blog Posts
According to AARP's most recent survey of adults age 50 and over, 76 percent of seniors want to remain in their homes for as long as possible. I've seen other surveys that put that figure at
News Releases
RWC is proud to announce that the 2021 Employee of the Year is Karen Conaway. Karen was selected by her peers from among 11 other 2021 Employee of the Month awardees.
RWC Named a Winner at the McKnight's Technology Awards Earlier this month, Rappahannock Westminster-Canterbury was honored with McKnight's Excellence in Technology Award. RWC Director of Nursing Mary Ann Hensley and
Military Veterans Annually Honored in RWC November Show Meet RWC residents who served in U.S. Armed Forces As former military members move in at Rappahannock Westminster-Canterbury, they quickly find they
RWC Staff Member To Showcase Art in June First artist to display works at retirement community since March 2020 Amy Lewis, RWC coordinator of the resident life program, was a
RWC Devotes Meadows to Monarch Butterfly Sanctuary Residents Purchase 200 Milkweed Plants to Support Declining Species With monarch butterfly populations dramatically declining over the past few years, Rappahannock Westminster-Canterbury (RWC)
Upcoming Events
At RWC, you can do as little or as much as you want.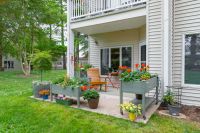 Solutions Seminar
Presented by Sandra Hargett with Liz Moore & Associates
Real Estate Decisions
Join us at 11 a.m. on Tuesday, Oct. 11 in the RWC Auditorium for a discussion about preparing your home for sale, how to select a realtor and the current state of the housing market. Lunch will be served after the presentation.
Reservations Required. Seating is Limited.
RSVP by Oct. 4 to [email protected] or by calling 804-438-4877
Click around on our CALENDAR to see what may be coming up or of interest.  The calendar is full of activities on and off campus.
Resources
Surveys — Find out if RWC is a good choice for you
Take this quick 4-5 minute survey to find out which options for the next stage of life are the best fit for you or your family.
Answer 7 questions to find out if RWC is a good financial fit for you!