Get to know RWC residents who served in U.S. Armed Forces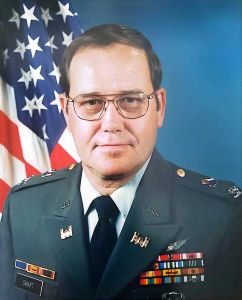 Like many members of the Greatest Generation and the Silent Generation, Rappahannock Westminster-Canterbury residents are reluctant to be in the spotlight when it comes to the sacrifices they made for their country as they served in the U.S. military.
One 100-year-old veteran served in the U.S. Marine Corps Reserves during World War II and the Korean War, but insists that he has nothing to brag about and wishes to remain anonymous.
Likewise, even though U.S. Army Col. (Ret.) Neil Smart served two tours during the Vietnam War, he says, "Most memories are positive. We were doing what we were told to do. In the moments when things went south and when times were not pleasant, we got over them and moved on with life."
Smart is one of the nearly 60 RWC residents who served in the military and whose photos and stories will be displayed as part of RWC's Veterans Wall of Honor exhibit, held each November in RWC's Gallery Hall. Collectively, these vets have given nearly 400 years of service to their country.
At 18 years old, Smart entered the U.S. Naval Academy and later was commissioned into the U.S. Army Corps of Engineers. During his first tour, (1967-68) he commanded a combat engineer company of the 9th Infantry Division in Vietnam's Delta – which included the TET Offensive. His division was awarded the Presidential Unit Citation for their work in that action.
He commanded the 221st Aviation Company "Shotguns" whose mission was Forward Air Control in his second Vietnam deployment (1971-72). In total, he served 30 years in the Far East, Europe and all over the U.S. in engineering and aviation assignments with army units working with locks, dams and flood control in the Corps of Engineers.
"I most enjoyed my assignments that involved commanding troops," Smart said. "I had the opportunity to command five different units from the company level to a Corps of Engineer District. The chance to command troops and get them to do their jobs was very rewarding."
In addition to sharing his military portrait and story as part of the annual November art exhibition, Smart also will accompany the Westminster choir on piano at the 2022 Veterans Day event at 1 p.m. Nov. 11. They will perform about a dozen songs — representative of Armistice Day — such as, "You're a Grand Old Flag" and "The Yankee Doodle Boy," to a medley of music representing the various branches of service.
The exhibition is open to residents and staff only throughout November in Rappahannock Westminster-Canterbury's Gallery Hall.
Share This Story, Choose Your Platform!