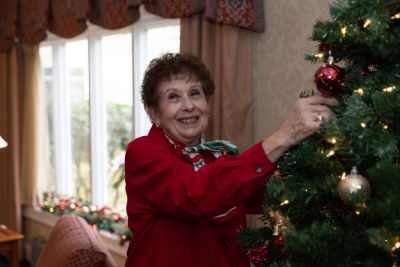 The holidays are almost here, and you're looking forward to spending time with your retired parents, who are still living in their own home. You know you should bring up the subject of real retirement planning—specifically, how your parents plan to address their changing needs as they age and what kind of living arrangements will serve them best. However, you aren't sure when's the best time to bring up the subject, and quite understandably, you are nervous about doing so.
Fortunately, there's good news on that front. You may not have thought about winter holiday gatherings this way before, but they can be an excellent time to help your older parents begin planning for the future. That's because the holidays lend themselves well to the following:
Meaningful conversations. The holidays are a time for family and traditions, and they mark the passing of another year. For this reason, they're the perfect time to check in with loved ones, reminisce over cherished memories, and discuss future plans. Asking tactful, loving questions about how your parents are doing and what their needs are will seem organic and intuitive rather than awkward or agenda-driven. In turn, they may be more receptive to deeper conversations about their lives at this time of year.
Helping family members. Winter festivities are also a time for putting up decorations and preparing special family meals. This makes it easier to observe how your parents are handling personal, household, and holiday tasks and offer to help. It's also a good jumping-off point for asking if they need help with more general life responsibilities, like home and property maintenance, driving, mobility, and more. Use natural segues and caring frames for these conversational pivots and keep your tone light.
More quality time. For many, the winter holidays offer the most uninterrupted time with your parents that you'll have all year, which may well be worth mentioning as you offer to help them with future plans. You'll have the luxury of warming up with more typical conversations first. Depending on how the conversation goes, you may even be able to schedule some tours of retirement communities.
Winter stress test. As we get older, harsh winter temperatures and weather conditions can help us assess whether things like driving, shopping, and snow shoveling are becoming overly difficult. You can use what is arguably the most challenging time of the year to observe how your parents are coping and encourage them to set themselves up for success in the future. Make it clear that they're not alone and that you can help them navigate the path to a safer, less stressful life.
Comfort and joy. In order to keep your holiday visit merry and bright, it can help to frame conversations about senior living plans in terms of positive possibilities. It can be helpful to talk about the benefits of continuing care retirement communities (CCRCs) in particular, because they offer the best of all worlds. Independent seniors can enjoy the same active, capable lifestyle they always have with plenty of social interaction, but they'll also have peace of mind knowing they can access additional support at any time.
New Year's resolutions. The end of the holiday season comes with the tradition of beginning a hopeful new year, complete with new goals and plans. This makes it arguably the best time of year for your parents to make blueprints for their own future. You can help them get started by respectfully asking them how they envision taking on the challenges (and joys) of their golden years. The best laid plans begin with research, so encourage your parents to do some homework on finances and senior living options.
Enjoy Happy Holidays With Rappahannock Westminster-Canterbury
Rappahannock Westminster-Canterbury is a continuing care community (also known as a life plan community) providing the highest quality living experience for discerning senior adults. Situated on 165 beautiful acres outside the village of Irvington in Virginia's Northern Neck, RWC residents choose to live here for the independent and worry-free lifestyle afforded in a tranquil setting.
At RWC, you're only a ten-minute drive from the Chesapeake Bay or the Rappahannock River as well as a variety of creeks, estuaries, and other rivers. You'll have access to all that our local freshwater and saltwater destinations have to offer, from outdoor recreation to dining on fresh local catches to boutique shopping.
Rappahannock Westminster-Canterbury Inc. is a Virginia nonprofit corporation affiliated with the Episcopal and Presbyterian churches. All religions are welcome. Read about our residence options and living our lifestyle!
Try this tool, to find out if RWC is the right financial fit for you.
Share This Story, Choose Your Platform!