Rappahannock Westminster-Canterbury had a highly successful year in 2022, with a wide range of accomplishments and new developments that further enhanced the community for staff and residents alike.
Nineteen new residents moved into the community and 69 new members (a 91.67% increase from 2021) joined the Rappahannock club, our priority waiting list. Seven of these Rapp club members ultimately moved into the community.
One of the most exciting events of the year was the Holiday House Tours, where residents opened their beautifully decorated homes to the community. This event was a huge success and is expected to become an annual event. At the end of the year, we celebrated the opening of The Small House, a state-of-the-art residential home designed specifically for residents with mild to moderate memory challenges. Rounding out RWC's continuum of care, The Small House offers eight private suites, each featuring a sleeping area, living space, and a full private bathroom with shower. Residents enjoy the large, bright activity space, full kitchen, home-like dining area, safe outdoor space, and engaging programming developed by a specially trained and dedicated team of employees along with the residents.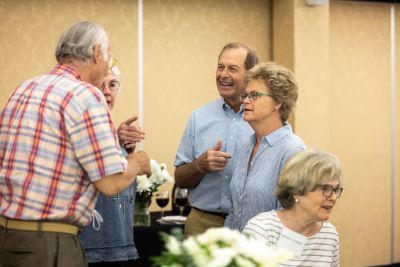 In 2022, RWC introduced a new Code Alert pendant system that allows residents to move about on campus and still have protection in case of a fall. The system triangulates the resident's approximate location from devices called repeaters and sends a signal to the front desk monitor, which can identify the resident and approximate location, providing added safety and security.
RWC hired 59 new staff members in 2022 – not only increasing the number of qualified and dedicated professionals caring for residents, but also adding to the diversity and expertise of the team. Additionally, RWC retired $5.4 million of outstanding bonds, resulting in substantial interest savings over the remaining 10 years of the bond issue demonstrating the community's commitment to financial responsibility and long-term sustainability.
Seminars and workshops resumed in 2022, on topics ranging from brain health, Alzheimer's and dementia research to downsizing and real estate decisions. These public events demonstrate RWC's commitment to providing education and support to the local community.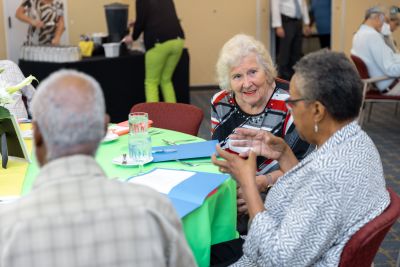 RWC residents made a significant impact on the community through various initiatives including establishing a Monarch butterfly sanctuary, selling milkweed plants and creating a viewing box to watch the evolution of captive caterpillars. Residents also established a scholarship endowment to support local healthcare professionals raising over $57,000 towards a $500,000 goal to provide ongoing scholarships. RWC residents also raised a record $194,000 for the staff Christmas gift, showcasing their generosity and commitment to the community.
2022 was a year of great accomplishments and achievements for the staff and residents of Rappahannock Westminster-Canterbury. The community continues to grow and thrive, thanks to the hard work, dedication, and commitment of everyone involved.
Share This Story, Choose Your Platform!