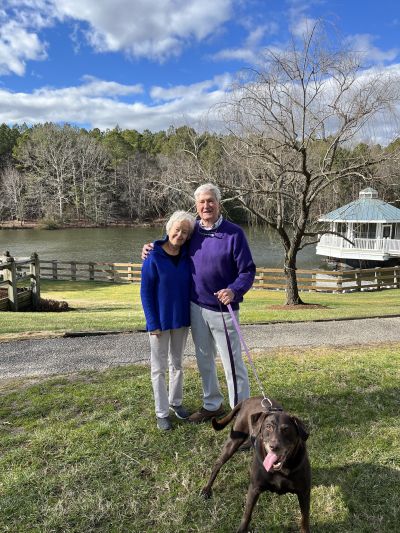 Love can be found in the most unexpected places, and for Bill Estell and Milena VanSant it was at Rappahannock Westminster-Canterbury (RWC) a continuing care, total lifecare retirement community.
It all started when Milena heard that Bill was a graduate of the Naval Academy and she had a grandson that was interested in also going there. She asked two residents at RWC if Bill would mind answering some questions about the Academy, and they both assured her that he was very personable. It was through this initial conversation that the two met, and later met again at the RWC pub for a glass of wine.
What started as a conversation about the Naval Academy quickly turned into a love story, as the two realized they had a connection. They found that they had common interests and a shared understanding of the world. They also had a sense of humor that allowed them to laugh at their own quirks and each other's, which helped strengthen their relationship.
But their love story wasn't limited to just the two of them. Bill's dog Belle also played an important role in bringing them together. They took walks with Belle every morning and she became a central interest in their relationship. Everyone in the community knows Belle, and she is always greeted warmly by all the residents. Milena states, "What ignited my initial interest in this gentleman was when we were walking Belle and she ran around us, and the leash wrapped around the two of us." Picture this, it's a love story that could easily be featured in a Hallmark movie, with a cute dog as a star of the show.
When asked what attracted them to each other and what kept their relationship strong while living at RWC, Bill responded,  "The other the other thing, I think, is our backgrounds and the experiences that we've had in the past. We have a common understanding of what's going on in the world. Milena has much more experience with that than I do. But it's just the way we enjoy each other's company. We have common interests. And it's just been a very, very pleasant relationship since the beginning."
Bill and Milena's relationship is built on shared experiences and activities. Whether it's enjoying meals together in the RWC Grille, attending private parties with other RWC residents, going for long walks and engaging in meaningful conversations, participating in exercise classes three times a week, and much more. They appreciate the community of Rappahannock Westminster-Canterbury not just for its beautiful surroundings, but also for the various activities and events that bring people together. This helped them find love and companionship in their golden years. They recommend that anyone looking for love at RWC should "Get involved and participate in the activities and events that interest them. It's a great way to meet new people and find common interests."
The families of Bill and Milena are overjoyed with their decision to reside at RWC. They have peace of mind knowing that their parents are well taken care of in a supportive and active community. Milena states, "We stay in constant touch, and they too are very much relieved to know that their own mother is having in her eighties one of the best times, if not the best time, of her life."
When asked what advice would you have for others looking for love in a continuing care retirement community, Milena's response was, "Well, I would say keep an open mind, keep an open heart, be unafraid to approach a possible relationship, explore it. And if you see it come to fruition, be grateful. And it's a beautiful, beautiful thing for anybody our age as we've all experienced losses in our lives to have that companionship, that relationship is beyond beautiful."
Bill and Milena's story is a reminder that love can be found at any age and in any place. They found love in the community where they lived, and it brought them joy, laughter and a sense of companionship. Their story is a testament to the fact that true love knows no bounds, it can be found in the most unexpected places and at any time. Rappahannock Westminster-Canterbury is a place where people come to live their golden years, but it's also a place where love blooms, and it's evident in the story of Bill and Milena.
To see Bill and Milena tell their story in their own words, watch this YouTube video!
Share This Story, Choose Your Platform!