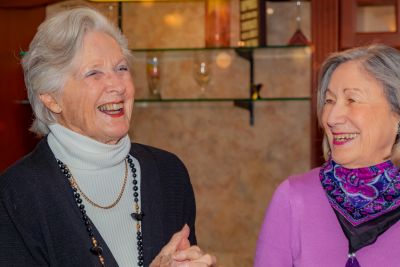 Reaching retirement can be a joyful time in your life: it comes with the promise of far more leisure time than you previously had, and almost complete autonomy over your schedule and lifestyle. However, it's also normal for older Americans to experience anxiety about the prospect of retiring, for several reasons.
On one hand, escaping the daily grind of work and the need to squeeze your personal life in around its demands is certainly cause for celebration and relief. After all, it's not called the "rat race" for nothing. But if you've had a long and fulfilling career, your profession is likely an important part of your identity, and you might worry about losing your sense of self-worth when you retire. You might wonder how you'll fill your time, handle finances, and find general happiness in other ways.
Fortunately, moving into a continuing care retirement community (CCRC) may well be the smartest way to put your mind at ease. These communities offer several distinct advantages regarding avoiding anxiety in retirement. CCRCs offer a flexible range of living and health accommodations on one campus, so you can enjoy full independence knowing that all your needs will be met as they arise. They also help significantly reduce any anxiety after retirement because they offer the following major benefits:
Meaningful, enriching activities. CCRCs offer activities that can keep you entertained, physically fit, and intellectually engaged. You'll have the opportunity to try new hobbies and forms of exercise that you may have long been curious about, and you can attend on-campus classes that will allow you to explore interests in many subjects. You'll also be able to take advantage of events and entertainment in the larger community. You may be surprised at just how busy you'll be and how rich your life will become.
Opportunities to socialize and make new friends. Living on a CCRC campus may take you back to the college campus days of your youth – both environments offer countless ways to make new friends and feel like part of a community. Staying socially engaged is essential for preventing feelings of isolation, anxiety, and depression in people of all ages, but especially in seniors. CCRCs offer many opportunities to meet new people as well as spend quality time with those you already know and love.
Mental health resources. In addition to medical services, CCRCs provide many ways to promote psychological wellness. Good nutrition, physical activity, and social engagement go a long way toward fostering good mental health, and CCRCs actively facilitate all of these. However, you can still arrange to speak with a therapist or counselor if you ever find yourself struggling.
Ways to give back to the community. Particularly for adults who have had highly gratifying careers, finding new ways to contribute to your community is essential. This can involve something as simple as helping your CCRC neighbors and friends with something you excel at or donating your time to local charities or nonprofits. In addition to making the world a better place, volunteering comes with many mental and physical health benefits for the altruistically-minded.
Simplified, predictable finances. Depending on the plan structure you choose to enroll in, your monthly CCRC fees can cover most of your daily living needs. This includes things like home maintenance, personal care assistance, healthcare, and even meals and transportation. Instead of constantly being pinged with a host of individual (and often unexpected) expenses, as we are for so much of pre-retirement life, you'll have far fewer and more predictable bills as a CCRC resident.
Enjoy Peace of Mind at Rappahannock Westminster-Canterbury
Rappahannock Westminster-Canterbury is a continuing care community (also known as a life plan community) providing the highest quality living experience for discerning senior adults. Situated on 165 beautiful acres outside the village of Irvington in Virginia's Northern Neck, RWC residents choose to live here for the independent and worry-free lifestyle afforded in a tranquil setting.
At RWC, you'll have access to our 18,000-square-foot Life Enrichment Center with aquatic center, exercise classes, arts and crafts and a woodworking hobby shop. Field trips, social gatherings, educational offerings, support groups and more fill our calendar each month. Join us for our next event!
Rappahannock Westminster-Canterbury Inc. is a Virginia nonprofit corporation affiliated with the Episcopal and Presbyterian churches. All religions are welcome. Read about our residence options and living our lifestyle!
Share This Story, Choose Your Platform!