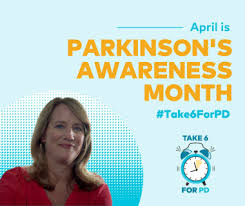 RWC offers exercise classes, support groups and financial resources for those with the disease
Rappahannock Westminster-Canterbury (RWC) is dedicated to improving the lives of those living with Parkinson's disease, especially during Parkinson's Awareness Month in April.
Through RWC's dynamic Parkinson's program, the Continuing Care Retirement Community offers exercise classes, support groups, and financial resources to enrich the lives of residents and the local community.
Bob C., an RWC resident who was diagnosed with Parkinson's, shared his experience with the program and the positive impact it has had on his life.
"I was delighted to find out… that they had an active Parkinson's program here that involved exercises three days a week with experienced instructors," he said.
He has attended the Fit to Move exercise classes specifically designed for people with Parkinson's disease since moving into RWC in 2016 and credits the program for keeping him nimble.
"I'm still able to walk without any kind of walking aid," he said. "My balance is still reasonably good. I attribute the Parkinson's program here at RWC with keeping me in the good shape that I'm in."
The Fit to Move exercise class is free for those who have Parkinson's disease and is geared to assist them in maintaining muscle tone, coordination, and balance.
According to Bob, exercise has been beneficial in managing the symptoms of Parkinson's disease and improving his quality of life. The program includes lower and upper body exercises, balance exercises, and speech therapy. Bob credited the experienced instructors and the physical therapy department for the success of the program. He also noted that the Fit to Move program has been successful in slowing down the progression of the disease.
RWC also hosts a Parkinson's Support Group, which meets monthly to socialize and discuss concerns, needs, and tips for living more productively. The support group has separate meetings for caregivers or care partners and for patients and their spouses. Bob finds the support group helpful to connect with others going through similar experiences.
Donations to RWC's Foundation: https://foundationrw-c.org/ are encouraged to support the Parkinson's Support Group and Fit to Move exercise classes (as well as other programs). 
To learn more about RWC's Parkinson's program, go to https://rw-c.org/community/#support and download a brochure or contact Denise Kenner at [email protected] or at 804-438-4877.
For more information about the Fit to Move classes or the support group, contact RWC Marketing Manager Lauren White at [email protected] or 804-438-4010.
White said, "These programs are underwritten by grants and individual contributions to the RWC Foundation, so there is no charge for participating in any of them."
Share This Story, Choose Your Platform!