Most people associate the month of May with Mother's Day and Memorial Day. But did you know that May is also Older Americans Month? It's a great time to celebrate the lives and contributions of senior citizens, whether that's you, someone important in your life, or both. Here's what you should know about this important national observance.
Origins and Theme
Each May, Older Americans Month (OAM) observances are led by the Administration for Community Living (ACL), a government agency that funds community-based organizations that provide senior and disability services. Each year, Older Americans Month has a different theme, and in 2023, the theme is Aging Unbound. It's the perfect time to recognize diverse aging experiences, combat negative stereotypes about seniors, and honor all of the incredible things seniors are capable of.
In March 2023, for example, a group of real-life "Rosie the Riveters" were honored in Washington, DC, for their work in factories building war equipment for American armed forces during World War II. Not only did these women prove themselves capable and civic-minded as young people, but they continue to be valuable sources of perspective today. Similarly, every senior has stories to share—including some missing from history books—and plenty of new ones to be part of.
Here's what you need to know about aging and how seniors can live their best lives during their golden years.
Stereotypes About Aging vs. Facts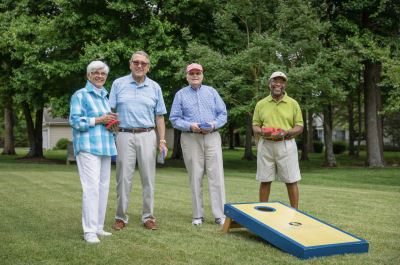 It takes a good deal of grit, resilience, and wisdom to reach an advanced age, which is why it's important to debunk popular myths about aging and celebrate empowering facts instead. Here are some senior stereotypes you can put to rest.
Myth: Cognitive decline is a natural part of aging.
Fact: Although the risk of developing dementia increases as we get older, seniors can prevent, mitigate, and even reverse some forms of cognitive decline by living a healthy lifestyle. This includes getting plenty of exercise and sleep, following a Mediterranean diet, drinking little to no alcohol, and staying both mentally and socially active.
Myth: Older adults are fragile and should avoid exercise.
Fact: Almost anyone at any age and in nearly any condition is capable of some form of exercise, and staying physically active has wide-ranging benefits. Besides helping to slow cognitive decline, low-impact workouts build strength, flexibility, and balance, all of which are excellent for preventing falls and keeping seniors living independently for longer. In addition, getting exercise as simple as gardening or practicing Tai Chi helps to prevent anxiety and depression.
Myth: It's too late for seniors to make healthy lifestyle changes.
Fact: Many healthy lifestyle choices (including quitting smoking) have almost immediate benefits on seniors' health. Start by talking to your doctor about ways you can improve your current health conditions and minimize your risk of developing others. Set reasonable goals and take small steps every day to achieve them. Better yet, find a partner to keep you accountable as you work toward healthy eating, sleeping, exercising, learning, and socializing habits.
Older adults can't learn new things.
Fact: Not only are seniors perfectly capable of learning new things, but they can significantly improve their mental and cognitive health in the process. If you or a loved one is a senior, consider auditing a college course together, or starting a new gardening or handicrafts project. Exploring new interests could involve a reading list or book club, an art or yoga class, documenting family genealogy, or something as simple as cooking or baking new recipes together.
Myth: Seniors don't have much use for a social life.
Fact: An active social life is essential for maintaining cognitive and mental health. In fact, social isolation and loneliness put older Americans at risk of serious health problems, including hypertension (high blood pressure), heart disease, obesity, a weak immune system, Alzheimer's disease, and death. Moving to a high-quality continuing care retirement community (CCRC) is an excellent way to make new friends. CCRCs offer plenty of classes, local outings, social gatherings, and, of course, friendly neighbors.
Celebrate Older Americans Month With Rappahannock Westminster-Canterbury
Rappahannock Westminster-Canterbury is a continuing care community (also known as a life plan community) providing the highest quality living experience for discerning senior adults. Situated on 165 beautiful acres outside the village of Irvington in Virginia's Northern Neck, RWC residents choose to live here for the independent and worry-free lifestyle afforded in a tranquil setting.
At RWC, you're only a ten-minute drive from the Chesapeake Bay or the Rappahannock River as well as a variety of creeks, estuaries, and other rivers. You'll have access to all that our local freshwater and saltwater destinations have to offer, from outdoor recreation to dining on fresh local catches to boutique shopping.
Rappahannock Westminster-Canterbury Inc. is a Virginia nonprofit corporation affiliated with the Episcopal and Presbyterian churches. All religions are welcome. Read about our residence options and living our lifestyle!
Share This Story, Choose Your Platform!