Lancaster Middle School celebrates 20 years of exhibiting in RWC's December Show
Teacher Marilyn Sprouse has proudly curated students' work since 1999
Lancaster Middle School (LMS) visual arts teacher Marilyn Sprouse still got it! Celebrating her platinum anniversary of teaching at LMS this year, Sprouse has also made sure to showcase her students' artwork at Rappahannock Westminster-Canterbury's December Show for 20 years running.
And what an interesting and eclectic exhibition it is! Fourth-graders will show experimental landscape paintings; fifth-graders used DayGlo paints to explore ideas that remind them of their own personalities; and sixth-graders will show off small Navajo rugs made of paint and yarn.
"Our seventh-graders did Tiki head carvings and eighth-graders worked on coil baskets," Sprouse said. "There will be lots of new things for RWC residents and guests to enjoy this year."
About 175 fourth- through eighth-grade art students will display their completed works in the show.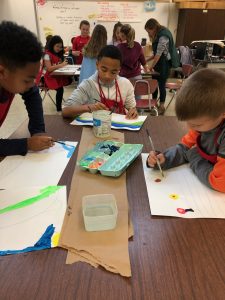 "Peace posters remain a constant," Sprouse said. "Our sixth-, seventh- and eighth-graders created their visions of what a trip to the world of peace might look like."
Because of her long career teaching at LMS, Sprouse now enjoys teaching children of some of the parents she taught 19 and 20 years ago. Many of them still remember their peace posters.
An art reception for the December Show will be at 5 p.m. Dec. 3 in the Atrium and Gallery Hall and is open to the public.
Residents and community members are invited to view the exhibition 9 a.m.-5 p.m. daily throughout December in Rappahannock Westminster-Canterbury's Gallery Hall.
Share This Story, Choose Your Platform!