Holocaust Diary Book Author Coming to RWC Oct. 20
Retired North Carolina attorney became a full-time writer in 2014
Timothy Boyce is out on a book tour promoting his new book based on a man's concentration camp diary written during the Holocaust called, "From Day to Day." He will be touring and signing his book up and down the East Coast, but he saved the best for last. The retired Charlotte attorney's final stop is at 3 p.m. on Oct. 20 in Rappahannock Westminster-Canterbury's auditorium.
Now a resident of Tryon, N.C., Boyce is a prolific reader and owns almost 5,000 books. When he came across Thomas Buergenthal's newly published memoir called, "A Lucky Child," published in 2009, he was mesmerized by the story.  After spending time since age 5 in Jewish ghettos, work camps and concentration camps, Buergenthal was evacuated in 1945 to Sachsenhausen (an event now known as the Auschwitz Death March) arriving with frostbite, requiring several toes to be amputated.
"While he was recovering in the infirmary, Odd Nansen, a Norwegian prisoner on a visit to a sick friend, stopped and struck up a conversation," Boyce writes on his website. "In an act of singular generosity, Nansen thereafter used his food rations to bribe the infirmary orderlies to look out for young Tommy, and most importantly, keep his name off the periodic 'selection lists' of those destined for the gas chambers."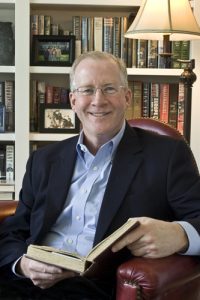 Buergenthal's memoir mentioned in a footnote that a secret diary Nansen kept as a prisoner had been published in English in 1949 under the title, "From Day to Day." With some difficulty, Boyce obtained a copy of the book and was hooked.
"It is one of the most fascinating, cinematic, powerful books I've ever read," Boyce said. "But it was out of circulation and not even referenced in any scholarly journals. I couldn't believe no one thought to reprint it. I used that as my motivation to try to get the book back into print."
After years of research and writing, including interviewing Buergenthal and Nansen's children, Boyce ended up publishing an annotated edition of Nansen's diary with more than 500 footnotes explaining context and providing corroborating stories.
He will be in the Chesapeake Center Auditorium on RWC's campus, 132 Lancaster Dr., Irvington at 3 p.m. on Oct. 20 to talk about his book and will be on hand afterwards to sign copies.
The event is free and open to the community, but please call RWC at 438-4000 to save your seat. RWC maintains a waiting list and honors reservations in the order received.