RWC residents headline art show in October
Watercolors are king in annual exhibition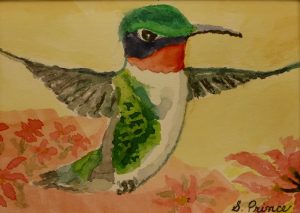 Watercolors are the star in the October art exhibition featuring works by Rappahannock Westminster-Canterbury residents this year. The annual show displays work they completed over the past year in long-time teacher Pam Bowers' art classes at RWC.
Many residents have been taking Bowers' classes for the 15 years she's been teaching, but there are some new faces as well.
"Marilyn Riggs just joined the class this year," Bowers said. "She loves to paint animals. Her raccoon image is very popular and will be in the show."
Residents Pat Morris, Cecelia Barton, Brandon Louisell and Helen Woolfolk are regulars. Maxine Luxton, Sylvia Prince and Richard Brautigam also joined in the fun within the last year.
"A lot of these residents are very talented," Bowers said. "Pat Morris paints, but she also plays the piano, quilts and more! Much of her artwork is landscapes, but she wants to explore other media, too."
Although this is a watercolor class, Bowers encourages students to explore other materials of interest.
Every student picks their own subject matter and works at their own pace. Bowers works with the students on an individual basis, although with new students she teaches a few techniques and encourages them to start finding their own ideas and style.
"I love the way everyone is now fairly independent in developing their styles and in choosing their own subject matter," Bowers said. "We use photos, still life, demos, etc. Sometimes we work with the same image, but most of the time, students are choosing their subject matter, style and composition."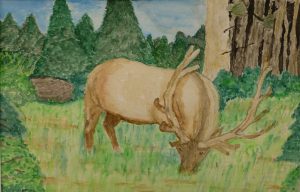 Art work on display in October will feature flowers, animals, still life, landscapes and other subject matter.
Residents and community members are invited to view the exhibition 9 a.m. – 5 p.m. daily throughout October in Rappahannock Westminster-Canterbury's Gallery Hall. There will be a "Meet the Artists" reception 5-6 p.m. on Oct. 8. It is free and open to the community.