RWC Named a Winner at the McKnight's Technology Awards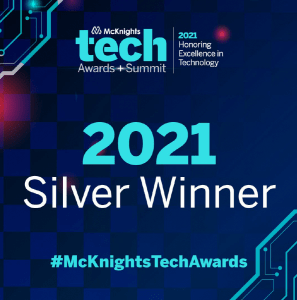 Earlier this month, Rappahannock Westminster-Canterbury was honored with McKnight's Excellence in Technology Award.
RWC Director of Nursing Mary Ann Hensley and Dementia Care Coordinator Mary Arthur earned a Silver Award in the McKnight's Excellence in Technology Awards. The RWC team received the award for reducing antipsychotic use by utilizing Birdsong tablets for engagement.
The McKnight's Excellence in Technology Awards program is a joint production of McKnight's Long-Term Care News, McKnight's Senior Living and McKnight's Home Care. The long-running program honors providers that convey how technology has improved care and operations in their organizations.
The competition included three divisions: Skilled Nursing, Senior Living/Assisted Living, and Home Care. Each division was divided into four categories.
"This is a well-deserved honor for a provider that clearly has taken extra steps to distinguish itself and the care of its patients," said McKnight's Editorial Director John O'Connor.
Nominations were judged by an external panel of industry experts. All winners were honored at a virtual awards celebration on Oct. 20, 2021 held in conjunction with educational webinars with tech themes at the McKnight's Tech Summit.
Share This Story, Choose Your Platform!