RWC's March artist finds inspiration locally, abroad
Acrylic paintings reflect love of nature and the great outdoors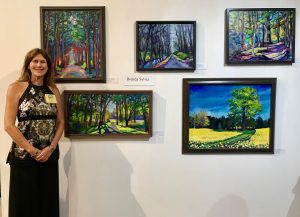 You might say that Reedville artist Brenda Sylvia plays with fire and water. A member of the Rappahannock Art League (RAL), Sylvia has a home studio on the Northern Neck Artisan Trail, but she also has a home on St. Thomas in the U.S. Virgin Islands – where she worked with a variety of elements to help pay the bills.  
"I went to the islands in 2008 and stayed," she said. "I love to paint landscapes and nature en plein air and it's easier to do that in St. Thomas. I worked on sailboats, as a kayak tour guide and taught snorkeling. I also was a fire performer. It's not inexpensive to live there. I worked seven days a week, but I loved it."
Her latest series of paintings, "Trails and Trees" were inspired by new paths she is taking in her life. They are among acrylics and oil paintings she will exhibit at Rappahannock Westminster-Canterbury as the featured artist in March. She said on her website: "I intend for each painting [in this series] to include people or animals and even objects that add layers of symbolism."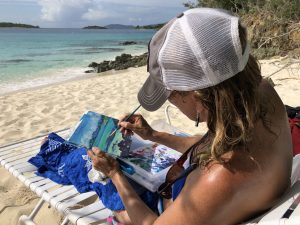 Uprooted by two Category 5 hurricanes that struck her St. Thomas home in September 2017, Sylvia is living in Reedville now, working as a personal trainer and fitness instructor teaching night classes at the Northumberland YMCA, so she can paint during the day. 
While her St. Thomas condo and studio are undergoing repairs, the Northern Neck is home again. Sylvia has had gallery space on and off at RAL since 1999, and her Reedville home studio is open the second Saturday of every month and any time by appointment. However, she says she will be in residence at RWC in March when her show opens. 
"I'll have some older work and some new paintings in all sizes – some bigger and some smaller pieces," Sylvia said. "There will be groupings according to the way the hallway is laid out – with paintings from St. Thomas in one area and from the Northern Neck in another."
Residents and community members are invited to view and purchase artwork from Sylvia's exhibition 9 a.m. – 5 p.m. daily throughout March in Rappahannock Westminster-Canterbury's Gallery Hall. To see some of her work online, go to www.silverravenstudios.com.