RWC Names Chester Smith 2018 Employee of the Year
Maître d' of Culinary Services Department is honored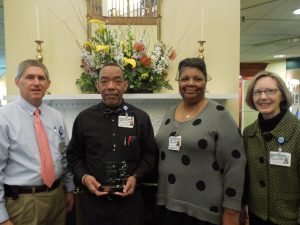 Just over a year after joining Rappahannock Westminster-Canterbury's Culinary Services team, Rappahannock Westminster-Canterbury's Chester Smith has been named 2018 Employee of the Year.
The Northumberland County native moved back home to be his mother's caretaker. He joined RWC in November 2017 and was recently promoted to maître d' of RWC's Culinary Services Department. In this role, Smith guides the service and hospitality in the Lancaster Dining Room on Friday and Saturday nights and during Sunday brunch.
"It's very exciting and rewarding to be named Employee of the Year," Smith said. "It shows that people really care that you are doing your best to make them feel good."
Drawing upon his extensive experience in hospitality, Smith also mentors and trains RWC culinarians and constantly seeks innovative ways to enhance dining experiences.
"Chester has a joyful spirit and attitude," said RWC President and CEO Stuart Bunting. "He pledges himself to providing excellent care for his mother, for RWC residents and their guests. His commitment and integrity shine each day, and residents ask for Chester personally to provide service to their parties and private functions."