Award-winning artist returns to RWC in September
Jacquie Colligan traveled around the world solo at 16 years old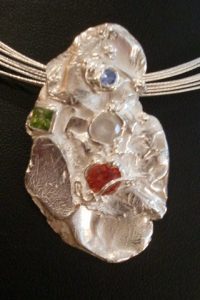 Local artist and world traveler Jacquie Colligan will bring her unique artwork and handcrafted jewelry to exhibit as the featured artist at Rappahannock Westminster-Canterbury again this fall. Her avant-garde works incorporate two new techniques she has learned and is now teaching. Her jewelry is made of semi-precious stones, metal and beads acquired in her worldwide travels as well as her husband's.
The daughter of a State Department envoy, Colligan traveled around the world at 16 years old, solo. Her father's civil engineering projects from the Amazon to Pakistan to North West Indian tribes introduced her to a wide variety of cultures and viewpoints.
"An artist himself, my father's voyages inspired his wife, daughters, son and grandsons by teaching us to embrace the earth's offerings," Colligan says. "He is a leading inspiration for my artwork. My style also has been guided through study with John Salminen and Brian Atyeo."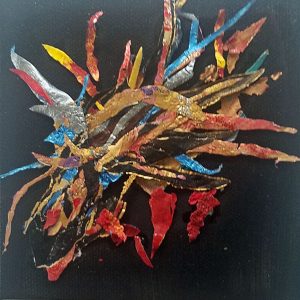 In addition to making one-of-a-kind jewelry, she's also a noted watercolorist and an Artist member of the Virginia Watercolor Society, where she's won awards of distinction and ribbons. Her artwork, "A Beautiful Mind," won Best in Show at the Rappahannock Art League's 53rd Annual Labor Day show in 2014. The following year, her Yupo styled "Rainbow Sunset" claimed the Purple Ribbon for Non-Traditional Art, the most coveted award for that genre. She won blue ribbons in 2016 and 2017.
This year at RWC, she will display small 4×4-inch pictures she creates by painting Tyvek® paper front and back.
"You put parchment paper down and then a hot iron and when you lift the iron, the Tyvek screeches and shrivels up. It reduces to half its size and you never know what you're going to get," Colligan says. "When I teach this technique to children, their eyes get big as saucers."  
Colligan also plans to have her signature jewelry on display as well as some pendants, earrings and rings made with another new technique she is now teaching called Art Clay Silver, which is like a polymer clay that is fired in a kiln and leaves 99.9 percent pure silver (more pure than sterling).
"I'm working on a 'Walking on Eggshell Collection.' Pendants or rings are made of crushed eggs on sandpaper. I also have an 'Oregon Bark Collection,' with earrings, rings and pendants made from bark I took from my son's tree. When Art Clay Silver comes out of the kiln, it's polished silver. Sometimes I add a gemstone or even 24-karat gold. No two are ever the same."
Residents and community members are invited to view and purchase Colligan's artwork and jewelry from 9 a.m. – 5 p.m. daily throughout September in Rappahannock Westminster-Canterbury's Gallery Hall. A meet and greet the artist is set for 4:30- 6 p.m. on Sept. 9 in the Gallery Hall.