RTD Columnist is Third Speaker in RWC Viewpoints Series
Bill Lohmann to share stories from his books  
Richmond Times-Dispatch columnist Bill Lohmann had written a number of stories on Tangier Island when, in 2010, Parade magazine hired him to write a story for their publication. Only trouble was, the story was due in April and the Tangier Island Ferry doesn't provide service from Reedville until May.
Faced with this predicament, Lohmann thought of Dr. David Nichols who flew to Tangier once a week to provide medical care to islanders.
"I asked if he could take me over there and thought he would be a good source for my story, too," Lohmann said.
An award-winning journalist and book author, Lohmann is the third speaker in RWC's Viewpoints series. His May 20 talk is titled, "The Back Roads of Virginia With a Side Trip to Tangier Island."
"Half of my talk will be about the back roads of Virginia and half will be about my new book, 'Dr. Coptr,' which was David Nichols' vanity license plate," he said.
Lohmann uses a PowerPoint format to share some of his best Back Roads stories published in the Times-Dispatch along with award-winning RTD photographer Bob Brown's images. They have published two Back Roads books of their work together.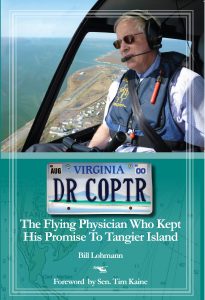 His most recent book, "Dr. Coptr: The Flying Physician Who Kept His Promise to Tangier Island", came out in 2018.
"A few months after he flew me over for the Parade story, he was diagnosed with inoperable cancer," Lohmann said. "We went back in November 2010, but he couldn't even fly anymore. His son flew us over. He never practiced medicine again and died in December 2010."
Inspired by the Northern Neck doctor's dedication to the island, Lohmann wrote a book about him at Nichols' request.
"I knew him for less than a year, but the book took me eight years to write for many different reasons," Lohmann said. "For one thing, I had to work around my day job."
Lohmann has been in the news business for 40 years. He began his career as a sports writer for the Charlottesville Daily Progress before moving to United Press International where he worked in bureaus in Richmond, Orlando and Atlanta. He returned to Richmond in 1988 to write for The News Leader, and he joined its sister paper, The Richmond Times-Dispatch, when the papers merged in 1992.
Find out more about Lohmann's long, rewarding career writing about extraordinary people across the Commonwealth during RWC's next Viewpoints talk.
The Viewpoints series features experts on a wide range of topics of current interest. These free presentations begin at 11 a.m. and are held through June in the Chesapeake Center Auditorium on RWC's campus, 132 Lancaster Dr., Irvington.
Starting on May 6, you can call RWC at 438-4000 for a reservation for the May 20 event.
Attendees are invited to remain after the presentations for a complimentary lunch. Reservations open for each speaker two weeks prior to the event. RWC maintains a waiting list and honors reservations in the order received. Separate reservations must be made for each speaking event in the Viewpoints series.
The final speaker in the series is Tom Allen, humorist and Richmond Times-Dispatch columnist, who is scheduled for June 3.