RWC Dementia Coordinator Mary Arthur adds credential to long list
Certified Dementia Consultant is latest accomplishment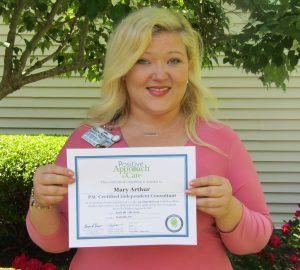 Rappahannock Westminster-Canterbury (RWC) Dementia Coordinator Mary Arthur has just added another credential to her long list of accomplishments.
After nearly three months of classroom instruction and testing, Arthur has received the Certified Dementia Consultant credential – one of the highest certifications through renowned dementia care expert's Teepa Snow's Positive Approach to Care (PAC).
"The role of a dementia consultant is to gain awareness and share knowledge and skills that may be needed to care for a loved one with dementia," Arthur said.
Arthur started at RWC in 2006 as a certified nursing assistant, later working at RWC's Health Center desk, handling doctor's orders and treatment orders, as well as scheduling appointments and transportation for residents.
All the while, Arthur pursued certifications and training to build upon her intense interest and empathy for caregivers and those with dementia.
She became RWC's Dementia Care Coordinator in 2016 and continues extensive and ongoing training with Teepa Snow – achieving Expertise Level Trainer status from Snow's corporation.
In addition to Certified Dementia Consultant, Arthur already holds these certifications and accomplishments:
Certified Nursing Assistant (CAN)
Certified Positive Approach to Care Trainer (CPACT)
Certified Dementia Practitioner (CDP) through the National Council of Certified Dementia Practitioners
Therapeutic Options Trainer
Dementia Friend Champion Trainer
Member of first-ever Virginia Dementia Cabinet
Grant writer for dementia-related funding
Arthur also provides dementia training to RWC staff members, interested residents and the local community.