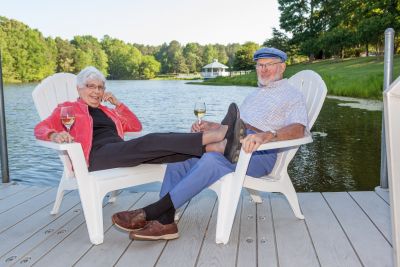 Everyone needs to "get away from it all" from time to time, which is why so many Americans flock to their favorite idyllic spots in the mountains, woods, lakes, rivers and ocean beaches during the summer months. As working adults, we crave not only a change of scenery, but the possibilities for relaxation, fun, fresh sensory experiences, and happy memories that remote areas offer us while we're on vacation. In fact, most people hate to leave. But what if you didn't have to? What if you could take a permanent vacation during your retirement?
Retiring to a rural area is a great way to make the most of your golden years, and coastal living in particular offers even more benefits. Here's why rural coastal communities in the US are some of the best places to retire.
Natural, relaxing setting and slower pace of living. Living close to nature guarantees that you'll never get tired of exploring local destinations and taking in the fresh air. In rural coastal communities, you can also live your life at a more leisurely pace than you would in the noise and bustle of a city. Here, you can take time to savor the highlights each day of your golden years brings—and your family and friends will enjoy visiting you, too.
Aquatic recreation. Large bodies of water offer endless recreational possibilities, and there's something for everyone. If you enjoy fresh seafood, you can go fishing, clamming, or crabbing (or just visit a local restaurant). Animal lovers can walk their dogs along the coastline or watch wildlife. Artists—and even those new to art—will have a wide variety of scenes to paint or photograph. You can try yoga or Tai Chi in a stunning setting; you can revel in a simple picnic, stroll, or afternoon spent just enjoying the water views.
Temperate climate and more vitamin D. Unless you live in the far north during the winter, most coastal areas have a fairly gentle climate, in part because of the ocean currents. The ocean releases heat at a slower rate than land does, which helps to regulate local temperatures even during the winter. Milder climates make getting outdoors much more appealing at more times of the year. Doing so can increase your body's production of vitamin D, which boosts mental and immune health.
Fresh seafood. Naturally, coastal living means access to plenty of delicious fresh-caught seafood, and you'll pay less for it than you would if you ordered it from a city restaurant further inland. Even if you're not sure whether you like seafood, the sheer variety of options and ways to eat them means that almost everyone will find something they like. It's worth your while to try it, too, because it's an excellent part of a healthy diet. Seafood contains important nutrients like omega-3 fatty acids, protein, and vitamins.
Improved physical health, mental health, and happiness. People who live near coastal areas exercise more, likely because walking, biking, or hiking near water is so enjoyable. This improves physical health, which also supports mental health. Further, the blue color of a bay or ocean is known to increase feelings of peace. The sound of the water promotes relaxation, as do the negative ions in the marine air you breathe. Living near a large body of water can actually increase your overall happiness.
Enjoy a Life of Wellness at Rappahannock Westminster-Canterbury
Rappahannock Westminster-Canterbury is a continuing care community (also known as a life plan community) providing the highest quality living experience for discerning senior adults. Situated on 165 beautiful acres outside the village of Irvington in Virginia's Northern Neck, RWC residents choose to live here for the independent and worry-free lifestyle afforded in a tranquil setting.
At RWC, you're only a ten-minute drive from the Chesapeake Bay or the Rappahannock River as well as a variety of creeks, estuaries, and other rivers. You'll have access to all that our local freshwater and saltwater destinations have to offer, from outdoor recreation to dining on fresh local catches to boutique shopping.
Rappahannock Westminster-Canterbury Inc. is a Virginia nonprofit corporation affiliated with the Episcopal and Presbyterian churches. All religions are welcome. Read about our residence options and living our lifestyle!