Award-winning artist returns to RWC in April  
Jacquie Colligan's work is inspired by world travels and her father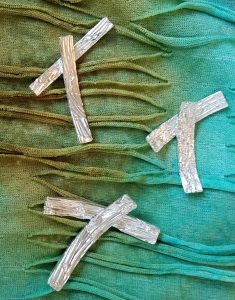 One of the Northern Neck's favorite artists, Jacquie Colligan, will exhibit her unique, handcrafted jewelry as the featured artist at Rappahannock Westminster-Canterbury in April. Her avant-garde works incorporate semi-precious stones, metal and beads acquired in worldwide travels.
"At an early age I lived abroad as a daughter of a State Department envoy and travelled around the world at 16 years old, solo," she says.
"My father introduced me to a dynamic world of cultures and their art forms. His duties included civil engineering projects from the Amazon to Pakistan to North West Indian tribes. An artist himself, his voyage inspired his wife, daughters, son and grandsons by teaching us to embrace the earth's offerings." Colligan cites her father as a leading inspiration for her artwork. Her style, she says, has been guided through study with John Salminen and Brian Atyeo.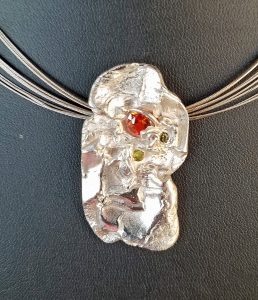 In addition to making one-of-a-kind jewelry, she's also a noted watercolorist and an Artist member of the Virginia Watercolor Society, where she's won awards of distinction and ribbons.Her artwork won Best in Show at the Rappahannock Art League's 2014 Labor Day show; the acclaimed purple ribbon for non-traditional art in 2015; and blue ribbons in 2016 and 2017. She's had single-artist shows at the Tides Inn, Middlesex Art Guild, Urbanna Harbor Gallery, Rappahannock Art League and the Hope and Glory Inn. Colligan often is found at area farmers' markets including Irvington, where she's sold works for about 20 years.
An artist's reception will be held at 5 p.m. on April 12. Residents and community members are invited to view and purchase Colligan's jewelry 9 a.m. – 5 p.m. daily throughout April in Rappahannock Westminster-Canterbury's Gallery Hall.