February's Featured Artist to Exhibit Watercolors
Painter draws inspiration from photographs he's taken

Mathews County artist Bob Haynes will exhibit paintings of landscapes, animals – and anything else that strikes his fancy – during Rappahannock Westminster-Canterbury's February art show. "I always paint from photographs that I've taken," Haynes explained. "And I take a lot of photographs. Every once in a while, I look at them and think, 'Hey, I want to paint that.'" And so he does.
Haynes' preferred medium is watercolor. It's a choice that's served him well; he's won ribbons in regional shows including those held by the Rappahannock Art League and the Virginia Watercolor Society (where he's a signature member).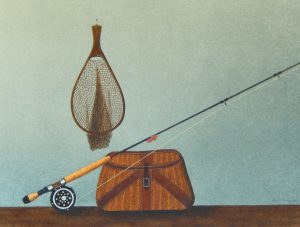 About 20 years ago, he moved to Mathews County, where he began studying with local watercolorist Kathleen Noffsinger. Since then, his work has been featured in exhibits across the state.
The exhibition will open Feb. 1. Residents and community members are invited to view artwork from the exhibition 9 a.m. – 5 p.m. daily throughout February in Rappahannock Westminster-Canterbury's Gallery Hall.