Lancaster Middle School produces eclectic December Show
Annual exhibition features posters, stencils, paintings, collages and more
Lancaster Middle School (LMS) visual arts students are all over the place – literally. The students and their art teacher Marilyn Sprouse designed the Bay's Bounty boots you see around town. They are selling Christmas ornaments at the Rappahannock Art League Art Center and recently completed a backdrop for Kilmarnock Town Centre Park.
But they wouldn't miss the LMS annual art exhibition at Rappahannock Westminster-Canterbury for anything.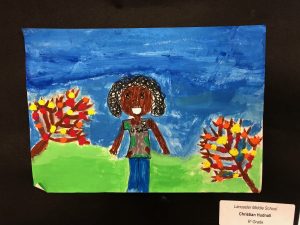 Led by Sprouse for 19 years, the LMS art students have been exhibiting their work at RWC since the art teacher joined Lancaster County Schools in 1999.
"Now, some of my fourth graders have parents who I also taught!" Sprouse said. "It's kind of exciting because their parents remember many of our art projects from so many years ago."
This year's RWC exhibition includes "Kindness Matters" posters; "Modern Mosaics," which incorporates Mardi Gras beads; stencils; funny collages; drawings of what a hero looks like; Christmas pictures; still life creations and paintings.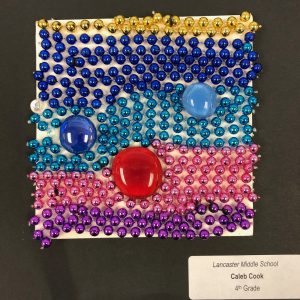 "I'm really excited about the dioramas they created of 'Veterans in Action,'" Sprouse said. "They recreated these 3-D displays based on photographs, but because they couldn't always find the details they needed for the exact uniform, some of the veterans are dressed as civilians – just everyday people."
About 240 fourth- through eighth-grade art students will display their completed works in the annual "December Show."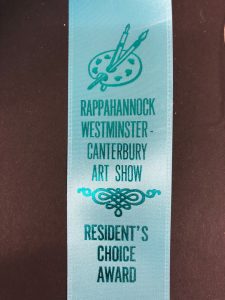 New this year are "Resident's Choice Award" ribbons that Sprouse created so RWC residents can vote for their favorite art. The ribbons will be available for all exhibits, but will kick off with the LMS show.
An art reception for the December Show will be 5 – 6 pm. Dec. 11 in RWC's Chesapeake Center and is open to the public.
Residents and community members are invited to view the exhibition 9 a.m. – 5 p.m. daily throughout December in Rappahannock Westminster-Canterbury's Gallery Hall.