Montross Artist will Headline RWC's July Art Show
Diane Jackson will display local scenes from days gone by
Chesapeake Bay buyboats and wharfs that no longer exist are among Montross artist Diane Jackson's favorite subject matter. She has been taking photos of the waterman's way of life since the 1960s, capturing this dying breed in oil paintings and watercolors.
Jackson, who is Rappahannock Westminster-Canterbury's featured artist for July, started painting at 10 years old with an oil paint set from her parents. She continued studying and creating art through high school and college, but then worked in the legal field for most of her life – painting on the side whenever she could.
Since the 1980s, however, she's made painting a full-time venture.
"I worked in watercolors for about 10 years," Jackson said, "but the competitions seemed to want something more academic, so I worked on more complicated still life and on advanced skills in watercolor. But it got to the point where I didn't feel challenged. To me, the next painting had to be more difficult than the one I just finished, so I've been focusing more in oils – really working on that."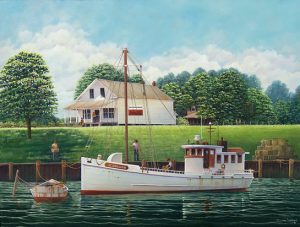 Jackson's watercolor paintings, acrylic renderings and scratchboard pieces are shown in various annual exhibits: the Rappahannock Wildlife Show (2010 Artist of the Year), Sidewalk Art Show and An Occasion for the Arts (Williamsburg), Arts on the Lawn and Arts Around the Lake (Richmond), and Art on the Half Shell (Urbanna).
"I like to do things that are really challenging – landscapes, water scenes, sunsets," she said. "I just finished a lighthouse series – Windmill Point, Stingray Point, Great Wicomico and Wolf Trap. These are probably the last lighthouses."
Residents and community members are invited to view her giclée prints on canvas in the free Gallery Hall exhibition from 9 a.m. – 5 p.m. daily in July at Rappahannock Westminster-Canterbury, 132 Lancaster Dr. in Irvington.