RWC Devotes Meadows to Monarch Butterfly Sanctuary
Residents Purchase 200 Milkweed Plants to Support Declining Species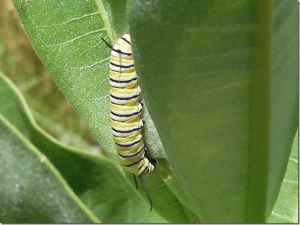 With monarch butterfly populations dramatically declining over the past few years, Rappahannock Westminster-Canterbury (RWC) residents are aiding in the rescue.
RWC residents Nick Ferriter and Jane Henley bought 200 Swamp Milkweed seedlings – selling almost 100 for residents to plant and planting more than 100 themselves in wetlands near the RWC planting gardens to support and feed the distinctive orange and black butterflies.
"The health of monarch butterflies is important to watch because they are like the canary in the coal mine," said Ferriter, a member of the Northern Neck Chapter of the Virginia Native Plant Society. "If their population dwindles, it's likely that other insect populations are struggling as well."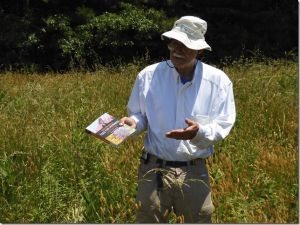 Habitat destruction, climate change, and pesticide pollution have been cited as likely culprits, as has planting non-native plants. Monarchs lay their eggs on milkweed and that is the only food their caterpillars will eat.
"Monarch butterflies have an extraordinary life cycle," Ferriter said. "Migration routes show that from the East Coast, butterflies cross the Gulf and hibernate in Mexico. How they know this route and manage to get there, I don't know."
When butterflies are about to hibernate, they cluster together – a phenomenon Henley, who is chairman of the RWC Residents' Grounds and Landscaping Committee, has witnessed.
"You may see 20 or 30 butterflies clustered in one tree or bush," she said. "When I first saw this, I didn't even know what I was looking at."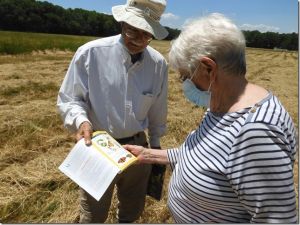 Monarchs make the trip from Mexico and back to points east of the Rocky Mountains looking for milkweed plants on which to lay their eggs. The two-way migration can often stretch up to 3,000 miles and is a difficult journey. Accordingly, the massive migration seems to be declining and the iconic insects are disappearing.
According to the Center for Biological Diversity, "In 2020, the yearly count of overwintering monarchs showed an even more dramatic decrease of 53% from the previous year's count," The numbers are now well below the threshold at which government scientists predict the migration could collapse."
For now, RWC residents are doing their part to help reverse the trend. Ferriter and Henley and other volunteers are monitoring the Butterfly Sanctuary frequently checking for eggs and caterpillars and leaning on RWC's Wellness Coordinator's (Jonathan Smith's) wife, Bethany Smith for her experience in raising caterpillars from eggs to butterflies. The Smiths have a home garden that is a monarch sanctuary and have enjoyed the experience of watching caterpillars turn into butterflies for many years.
For more information on monarch butterflies, go to www.monarchwatch.org.
Share This Story, Choose Your Platform!