Lifecare Contracts Explained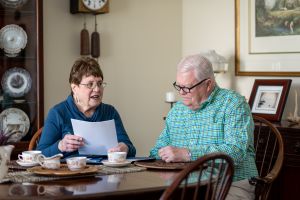 A Continuing Care Retirement Community (CCRC, or "Life Plan Community") can be a wonderful solution for older adults who are independent and active today, but who seek the peace of mind that comes with living in a community where assisted living or health care services will be provided when needed. A CCRC is the only type of retirement community that contractually provides access to services spanning the full continuum of care—beginning with independent living and progressing to assisted living and around-the-clock skilled nursing care.
Yet, CCRCs are not all created equal and resident payment plans can vary dramatically from one provider to another. No single contract type is right for everyone, so it is important to understand the differences and make an educated decision regarding your unique situation.
Key Features of Lifecare Contracts
Lifecare contracts are often considered an all-inclusive model and are essentially a form of insurance against the future costs of healthcare services. Among entry-fee CCRCs, a community that offers a lifecare contract will typically require a higher monthly fee while a resident is living independently. The benefit, however, is that the resident has better predictability of monthly expenses over their lifetime because their monthly rate will not increase to reflect the cost of healthcare services when such services are required. Keep in mind, the monthly rate is also influenced by other factors, such as amenities, size of the residential unit, and geographic region.
Other Considerations
Residents who choose a lifecare contract are paying in advance for assisted living and/or health care services that they may or may not need. To help alleviate this concern, many communities offering lifecare contracts also offer partially or fully refundable entry fees. Another consideration is that some portion of the entry fee and/or the monthly fee may be deductible as a pre-paid healthcare expense1. (Refundable portions of the entry fee are not deductible.)
And Finally…
If you do not own comprehensive long-term care insurance and you seek protection against out-of pocket costs for extended healthcare needs, a lifecare contract may be right for you. (Those who already own long-term care insurance may still be able to use it in a lifecare community under certain situations.) The benefit of lifecare is often magnified in the case of double occupancy because the monthly rate under a lifecare contract will likely be substantially less than the cost of two people paying separately for care at market rates over an extended period of time.
1 IRS Pub. 502- Medical and Dental Expenses, "Lifetime Care- Advance Payments"
The above article was written by Brad Breeding of myLifeSite and is legally licensed for use.