RWC Staff Member To Showcase Art in June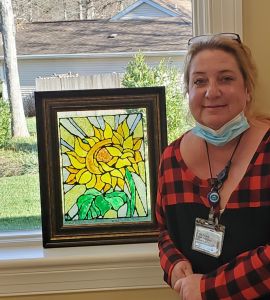 First artist to display works at retirement community since March 2020
Amy Lewis, RWC coordinator of the resident life program, was a late bloomer of sorts when it came to art. But she's making up for lost time. Lewis started painting in 2017, entered her first art show, won 3rd place and sold the painting for $300. She was hooked. Not a day goes by that she doesn't have paint on her hands, under her fingernails or somewhere on her clothes. Now, she teaches art to residents as well.
Lewis will be the first artist to display artwork for public viewing in RWC's Gallery Hall since the COVID pandemic. (RWC staff displayed photos in November 2020 to honor resident military veterans in their annual Veteran's Day art show.)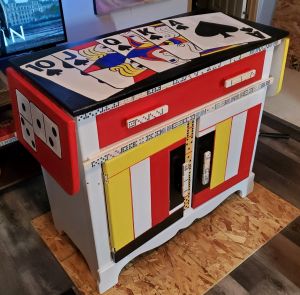 "It is a privilege to come to work every day and teach art classes to our residents," Lewis said. "I know I have done my job when I see the tips of their tongues sticking out as they concentrate on their work. They lose themselves in it. It's an escape from reality."
Lewis started her own art journey with acrylics, then branched out to all sorts of media.
"I'm always looking for materials for art," she said. "It is not beyond me to dumpster dive, pick up something interesting along the road or at a flea market or thrift shop. I love architectural junk! I found an old folding dressing privacy screen, like the movie stars use, and turned it into a chicken run for my new chicks on the farm. It works perfectly."
Lewis still works with acrylics but also with watercolor, alcohol inks and yupo (a synthetic plastic paper), faux stained glass, clay, batik, soap making, resin and epoxy jewelry making, diamond painting, suminagashi (Japanese marbling) on silk or paper and furniture repurposing.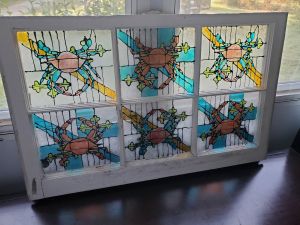 "I usually donate a piece to the Chesapeake Academy auction every year," Lewis said. "Last year was a Texas Hold 'Em game storage table or saloon liquor cabinet. I also enjoy shashiko, (traditional Japanese embroidery), which I learned from a resident. I am now trying to learn how to quilt with guidance from residents who are master quilters."
Lewis' artwork, including paintings, painted furniture, stained glass pieces and more, will be on display in June in Rappahannock Westminster-Canterbury's Gallery Hall, which is not yet open to the public. More artists will follow this summer and RWC plans to open the exhibitions to the community again, if conditions make it possible.
Share This Story, Choose Your Platform!