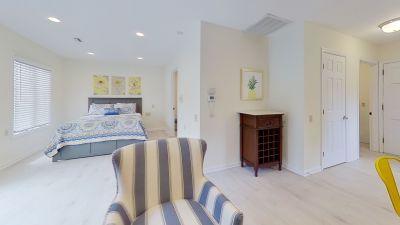 When considering a Continuing Care Retirement Community (CCRC) like Rappahannock Westminster-Canterbury, downsizing to a smaller residence may feel a bit daunting or prohibitive, so it's natural that RWC's stand-alone homes often get a first look.
While they are a great option, many residents find that apartment or cottage living at RWC is more spacious than expected — especially when considering all the new activities, friends and community spaces just outside your front door.
Other advantages to apartments and cottages include:
Continuing care: You still have access to continuing care for the rest of your life.
Cost: The entrance fee is lower than a stand-alone home, in some cases by three times.
Less stuff, more time: Residents who've downsized consistently say they are happier with less "stuff" cluttering their lives and they have more time for the things they love. And although cleaning services are provided, it's easier to keep a small, uncluttered space tidy and picked up.
Travel: Ability to keep your river or vacation home for weekends and family and friends' visits.
Amenities: RWC has a professionally trained chef who prepares delicious meals, so there's no need for you to have a big, stocked kitchen. Plus, if children or grandchildren want to visit, guest accommodations are on campus or at nearby bed and breakfasts or hotels.
RWC apartment and cottage residents love that they have the best of both worlds. Their cozy, private living space and access to a whole host of activities, exercise classes, friends, staff and interesting new residents.
Take our latest virtual tour now, this one of the Aster Studio Cottage. For virtual tours of other apartments, cottages and stand-alone homes, go to https://rw-c.org/photo-gallery or call us for an in-person tour today at 804-438-4000.