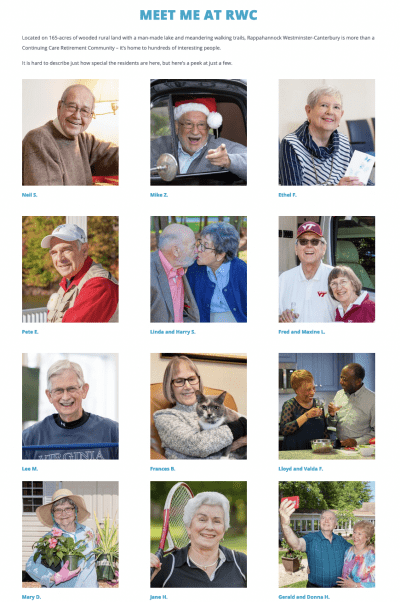 Worried you will be bored without cooking, cleaning and home maintenance chores? Worried you are too young to consider a Continuing Care Retirement Community (CCRC) or too stuck in your ways?
Well, hundreds of interesting people have shared those same thoughts, visited the 165 wooded acres, with a man-made lake and meandering walking trails of Rappahannock Westminster-Canterbury and made the decision to live here. Many of our residents came in their early 70s and continued working or volunteering part time. Some even still own their vacation homes.
What are current and prospective RWC residents like?
We are home to more than 250 residents, with 69 men and 121 women in independent living. The average age in independent living is 83.
Our residents have fascinating talents and backgrounds. In fact, our recent storytelling series, "Meet Me at RWC," features the lives, interests and experiences of those who live here. We offer a wide array of activities to keep residents as lively as they want to be.
RWC residents come from a variety of areas, but many have a history and love for the Northern Neck community. People seeking information about RWC lately are from:
Virginia:

Hampton
Irvington
Kilmarnock
Richmond
Virginia Beach

Other:

Charlotte, N.C.
Houston
Washington, D.C.
How would you fit in at RWC?
On our website, we offer two assessment tools – Roobrik to help determine if it's the right time for senior living and MoneyGauge, which helps determine if RWC is a good financial fit.
To see how you might fit, below are averages from recent MoneyGauge users:
Age: 75
Equity in residence: $393,000
Savings: $890,000
Social Security income: $2,000
Pension: $2,500
53% are couples
47% are singles
Below are the latest statistics from those completing the Roobrik assessment:
Age

Under 55 2%
55-65 5%
65-75 39%
76-85 42%
86-95 11%
Over 95 1%

Current living situation

With partner or spouse 58%
Alone 33%
With family or friend 5%
Different living situation 4%

Top three reasons for considering a change

Curious about options
Concerned about care needs
Time to consider downsizing

Monthly housing payment

Housing is paid off 58%
Monthly mortgage payment 28%
Monthly rent payment 7%
Another arrangement 6%
Not sure 2%

Move history

Many years since you moved 60%
Moved within the last few years 33%
Lived in the same place for whole adult life 7%

Open to considering a senior living community

Open to change 54%
Need to talk about it 27%
Would be difficult for you 14%
Not sure 5%

Financially prepared for a move

Yes, done financial planning 52%
Need help understanding options 35%
Not sure 8%
No financial planning 4%

Family members or friends are helping with this decision

No, handling on your own 41%
Yes, and on the same page 42%
Yes, but hard time agreeing 13%
Not sure 4%
Why not take one or both of these quick assessments and find out if it's the right time for senior living – Roobrik – or if RWC is the right financial fit – MoneyGauge. To learn more about RWC, call us for lunch and a tour at 804-438-4000.