RWC Featured June Artists: 'It's a Family Affair'
Coordinator of Resident Program Development and relatives display their work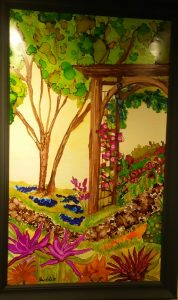 Amy Lewis, Rappahannock Westminster-Canterbury Coordinator of Resident Program Development, is no stranger to having her artwork displayed as the featured artist where she works. But when she saw the June art exhibition looming and had few pieces of art ready to show, she called in reinforcements.
Lewis' daughter-in-law, Shilina Lewis and her cousin (by marriage) Ryan Lewis, will join her as the featured artists for June at RWC.
"I went to visit the grandkids and saw acrylic paintings that Shilina had worked on while the children were resting," Amy said. "I thought they were really good. And she just finished making a house out of cardboard. It's the most amazing thing! Her artwork is inspired by the horror movie director Tim Burton. It's macabre and cool weird."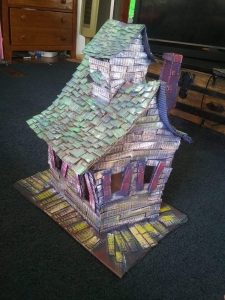 Amy will display some techniques she's shared and taught at RWC before – acrylic and watercolor paintings and alcohol ink on Yupo, a plastic coated paper. "I'll also have some three-dimensional artwork," Amy said. "In addition to my [Mexican holiday-inspired] 'Day of the Dead' painted skulls, I'll have a ukulele I painted."
Amy also recently discovered that her cousin was gifted as well.
"I wasn't aware that Ryan was an artist, but his sister Ashleigh is a nurse at RWC, and she said, 'Look at this, you won't believe it.' She showed me an animal he was working on and it was so real looking."
Residents and community members are invited to view the free Gallery Hall exhibition from 9 a.m. – 5 p.m. daily in June at Rappahannock Westminster-Canterbury, 132 Lancaster Dr. in Irvington.