Meet RWC resident Jane H. at home for the holidays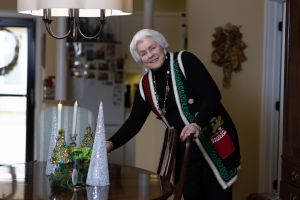 When you see RWC resident Jane H.'s home this time of year, there is no doubt that Christmas is her favorite holiday. Raised in the Methodist Church, she knows that the birth of Jesus is the reason for the season.
However, she believes that the holidays are also about family time and sharing memories.
Forgoing her almost 8-foot tree this year, she still decked her halls to the max reliving the meaning behind each special ornament and decoration.
"My [late] husband and I married in Denmark. Some people we visited had known my husband since they were young. For a wedding present, they gave us four Georg Jensen 18k gold plated ornaments. And then, they sent a new one every year. Each one has a red ribbon with the year on it."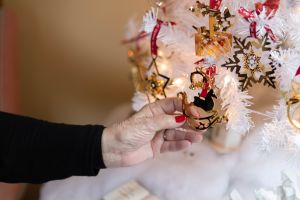 Keeping her festive décor in a shelved storage area outside of her cottage, Jane H. carefully pulls out the original boxes for each ornament to place them on the tree and back they go when the season is over.
"Another very special ornament is a hot air balloon with a basket below," she said. "A friend custom made this for me including the Cairn terriers representing the three dogs we had at the time."
A small white Christmas tree is filled only with the gold ornaments from Denmark. Then, there's a white "bare" tree with jeweled ornaments from Thailand collected on their travels to Bangkok. A mini gold tree features White House Christmas ornaments. Three Cairn terriers dressed in Santa costumes adorn her mantlepiece. A miniature piano plays the sheet music that's put in front of it. Two creche scenes round out the displays – a smaller one on a side table and the larger display, featuring foot-tall manger figurines, is perched on her desk.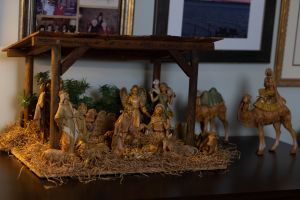 Before COVID-19 hit, Jane enjoyed throwing two catered parties per season – mostly to welcome newer residents to RWC. This year, she is opening her home to smaller gatherings such as six people over for cocktails at a time.
In addition to entertaining, she enjoys listening to Christmas music with her dogs – Louis and André – and enjoying the decorations that bring back so many fond memories each year.
"It's such a wonderful time of year," she said. "I just love it!"