How to Talk to Your Aging Parents About Planning for Their Future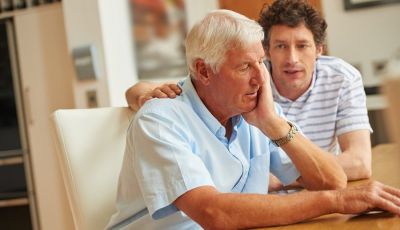 Throughout the holiday season and afterward, most Americans plan to get together with their families. This often includes spending time with older loved ones whom you realize now need extra care and assistance but may be reluctant to make a major lifestyle change. This may be a good time to talk to them about moving into a continuing care retirement community (CCRC).
Talking to parents about aging can be tricky. Moving into such a community is a big step that requires a lot of thought and many considerations. It's understandable that an older family member may be reluctant to leave their home, especially if they've lived there for many years and have built up a wealth of important memories. However, it may be that moving into a CCRC is the best next step to keep them safe and healthy.
Even with the best of intentions, suggesting this move can be difficult. So how do you bring up the topic?
Discussing Lifestyle Changes with Elderly Parents
Just as people share their education and career plans with family members, it's critical  to discuss health, money matters, long-term care options, and end-of-life preferences with aging parents. However, it's important to be sensitive and respectful in how you handle the topic of moving into a CCRC.
First, discuss it with your siblings or family members most likely to assist and provide support to your parents as they age. Make sure that other family members agree with bringing up the subject and that you can do so in person if at all possible with no interruptions.
Next, do your research. Find out the facts about the lifestyle, cost, and benefits associated with a CCRC and share them with loved ones who will be joining the conversation. This can help to avoid misinformation and alleviate concerns that your parents or other family members may have.
How to Start the Conversation
It can help to start with the status of your loved one's health. Can they walk easily in the house without assistance and without falling? If not, how often do they fall? Take time to assess their mental and physical health. Here are some questions to help open up the discussion in the most natural way possible:
How do they feel about their current living conditions? Do they feel safe? Is there anything that would help to reduce stress about their living condition?
Do they need assistance with daily tasks, such as cleaning themselves or their home, cooking, or lifting things?
How do they feel about driving? Do they still feel comfortable and safe doing so? Are they avoiding driving for more than a few minutes away from home or in very limited conditions (i.e. daytime, dry conditions only)?
Have they thought about where they'd like to live if they no longer stayed in their home alone? Do they have a plan for how that would work, and how to cover costs?
Do they feel lonely? Would it be helpful to feel more like part of a community?
Is there anything you (and other family members) can do to make them feel more comfortable?
How to Keep the Conversation Positive and Avoid Conflict
It's important to frame the discussion in terms of your parent's needs, now and in the future. It's best to aim for a natural conversation rather than a confrontational approach. Here are some key things to keep in mind for a productive discussion:
Begin the conversation early. You may not resolve the question in a single conversation, but it's important to start it early so you can revisit it before the situation escalates. Don't wait for a health crisis to force the conversation or the decision.
Prioritize listening over telling. Ask how your parents are doing and whether they're having any difficulties. As you warm up to the subject of discussing CCRC living, be sure to listen to their points of view and concerns. The last thing any parent wants is to be patronized or told what to do by their child.
Choose your terminology wisely. Avoid terms with negative or clinical connotations (such as end-of-life care) as much as possible. Instead, choose words that keep the conversation positive and practical. On the other hand, if your parent does want to discuss final arrangements, allow them to do so without getting embroiled in negative emotions. Humor can be a great conversation saver!
Keep a calm, caring demeanor. Let your parents know that you're bringing up the topic from a place of respect and empathy, not condescension or selfishness. The more they understand that you are keeping their best interests at heart, the better results you'll get from the conversation.
Don't rush. Don't try to engineer the conversation directly toward a concrete decision. Instead, give your loved ones time to think and express themselves. Remember, you're starting a conversation, not packing up belongings.
Arrange a visit to a CCRC—if your parents are ready. If your parents are open to the idea of touring a CCRC to get a better understanding of what the lifestyle would be like, research some communities in their desired area and schedule a tour. Getting to this point may take time and several conversations. Your parents may not be ready for this step after your first discussion.
Plan to revisit the conversation. The decision to make a major life change of any kind takes time to consider and plan, and moving into a CCRC is a big decision. Give your loved ones time to assess their present and future in light of the conversation you've started. However, it's important to pick up the conversation periodically until plans become finalized. Don't make your parents feel that you are nagging them, though; it is important to strike the right balance.
Choose the Best CCRC in Virginia Today
Rappahannock Westminster-Canterbury is a continuing care community (also known as a life plan community) providing the highest quality living experience for discerning senior adults. Situated on 165 beautiful acres outside the village of Irvington in Virginia's Northern Neck, RWC residents choose to live here for the independent and worry-free lifestyle afforded in a tranquil setting.
Rappahannock Westminster-Canterbury Inc. is a Virginia nonprofit corporation affiliated with the Episcopal and Presbyterian churches. All religions are welcome.
Find out more about living our lifestyle!