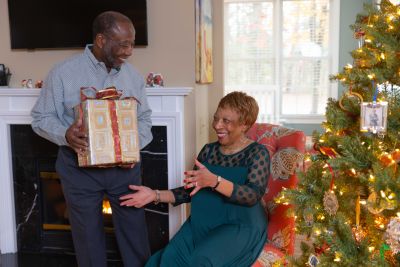 There's no question that much of what makes the holiday season special is the family traditions that go along with it. Many of these are shared across entire cultures. For example, typical fun Christmas traditions for families in the US include decorating a tree, attending festive community events, and cooking or baking together. Yet everyone celebrates in different ways, and each family tradition—from the kinds of desserts made to the most treasured decorations—has a special significance that sets it apart from broader cultural customs.
Part of what gives family rituals their meaning is that they remain comfortingly intimate and constant in an impersonal world and evolving lives. If your senior parents are thinking about moving to a retirement community, they (or you) may be worried that the holidays won't feel the same as a result. However, you don't have to celebrate the holidays in any one family home to continue your favorite traditions. Here's how you can carry on making new memories around your family's most time-honored holiday habits.
Ways To Include Parents Living in a Retirement Community
It's not called the holiday season for nothing: many family traditions take place well before or over multiple days during Christmas, Chanukah, Kwanzaa, Bodhi Day, or whichever holiday(s) your family observes. That's why it's important to include your loved ones who live in a retirement home throughout the period leading up to the big day or days. Although this may look a little different than it did when they lived in their original family home, there's no reason that seniors can't be just as involved as ever.
Here are some ideas for including your senior parents in holiday traditions:
Continue using old family recipes before and during the holidays. If you're making them at your own home, consider calling or video conferencing with your parents to share how the process is going. Alternatively, consider making the dishes in your parents' new home so they can watch or participate.
Display pictures and videos of past holidays. One way to do this is to create a duplicated set of old holiday photos so you and your parents have the same ones in your homes. (Digital photo frames can play them as a slideshow and make great gifts). Another could be sending videos from holidays past to everyone in the family so they each have a copy. Alternatively, you can bring a photo album to the retirement community and spend time reminiscing over holiday memories.
Share favorite holiday music. If you're playing a beloved family holiday album at your home, be sure to tell your parents about it and (if applicable) explain to your children how special it is. Better yet, plan a family gathering at your parents' new home and bring the album with you to play. This is a great way to evoke happy memories and get your family talking about good times in holidays past.
The Value of Creating New Holiday Traditions
No matter how much your family cherishes its special methods for celebrating the holidays, no two holidays are ever exactly the same, and it's ultimately impossible for future holidays to be carbon copies of previous ones. Nor should you want them to be: it's wise to treat each one as a new gift to be anticipated and appreciated in its own right. Otherwise, family celebrations would become dull and meaningless. A great strategy for keeping things joyful is to reflect on things you are grateful for this year that may not apply to past or future years.
One way to keep the holidays fresh and exciting is to create new traditions to add to or replace old ones. If your parents are moving to or living in a retirement community, consider creating new traditions that can easily be adapted for the new environment. Some ideas for new holiday traditions to start with family include:
Create a new ornament each year. You can purchase these, but you may get more out of the experience by crafting them together as a family. Alternatively, you can take a sentimental family item that rarely sees the light of day and add a festive twist to it so that it can be displayed and enjoyed during the holidays. Consider doing a family ornament exchange to make your creations even more memorable.
Try candlelight. Instead of using a loud collection of electrical lights, try celebrating all or part of the holidays by candlelight for an atmosphere that lends itself better to calm and reflection. Have each family member pick out a special candle; you can even make or decorate your own. If you're concerned about fire hazards, you can always opt for a battery-operated flameless version.
Try new holiday foods or dishware. You can never really know which festive foods your family enjoys most without trying new ones once in a while. You can make these more meaningful by choosing recipes from a shared family cultural heritage. Alternatively, consider picking out new serveware, flatware, or dishware as a family to brighten up your holiday table.
Choose a charity or nonprofit to support. Another great way to bring the family together is to find a shared way to give back to your community. You can pool funds or in-demand items to make a collective donation, or you can find a volunteer or fundraising event to attend as a family. You don't always have to volunteer in the usual sense; with some fundraisers, you can simply purchase items (in person or online) whose proceeds go to a particular cause.
Participate in a senior living community activity. Most retirement communities offer a variety of holiday activities for their senior residents, and many welcome family members to join in the fun. This can be a stimulating new holiday tradition for the entire family, and can help everyone feel closer both to their senior loved ones and the community as a whole.
Cherish Holiday Traditions With Rappahannock Westminster-Canterbury
Rappahannock Westminster-Canterbury is a continuing care community (also known as a life plan community) providing the highest quality living experience for discerning senior adults. Situated on 165 beautiful acres outside the village of Irvington in Virginia's Northern Neck, RWC residents choose to live here for the independent and worry-free lifestyle afforded in a tranquil setting. We offer a variety of ways to enjoy the holidays with your family and friends as well as fellow residents.
At RWC, you're only a ten-minute drive from the Chesapeake Bay or the Rappahannock River as well as a variety of creeks, estuaries, and other rivers. You'll have access to all that our local freshwater and saltwater destinations have to offer, from outdoor recreation to dining on fresh local catches to boutique shopping. Rappahannock Westminster-Canterbury Inc. is a Virginia nonprofit corporation affiliated with the Episcopal and Presbyterian churches. All religions are welcome. Read about our residence options and living our lifestyle!
Share This Story, Choose Your Platform!