54 military veterans share photos and stories in November show
Get to know RWC residents who served in U.S. Armed Forces
When the first Vietnam War POWs were released from prison in February 1973, they headed first to Clark Air Base in the Philippines. USAF Staff Sergeants Ted and Denise Munns were there to witness this historic event.
"We were stationed at the base and allowed to go down to the flight line and see the men get off the plane," Denise Munns said. "Clark was their first stop on their way to the U.S." Ted Munns added, "We were so proud to welcome them home and they were overcome with joy at the reception from waiting military members and their families."
The Munns are among 54 military veterans who live at Rappahannock Westminster-Canterbury and whose photos and stories will be on display as part of an annual Veterans Wall of Honor exhibit, held each November. Collectively, these vets have given 494 years of service to their country.
RWC residents who have served in World War II, Korea, Vietnam and/or the cold war, will be featured. Each display includes a photo of the resident in uniform, when available, along with a current photo and short biography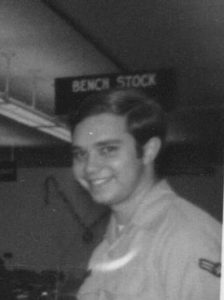 including branch of service, years served, special engagements and commendations.
The exhibition will open Nov. 1, and residents and community members are invited to view Veterans Wall of Honor 9 a.m. – 5 p.m. daily throughout November in Rappahannock Westminster-Canterbury's Gallery Hall.
In addition to being featured in the exhibit, RWC's veterans will be honored at a brunch on Nov. 11 – Veterans Day — at 11 a.m. "We moved from holding a breakfast to a brunch this year, said Maria Ferrand, coordinator of Resident Life Services. "These military vets let us know last year that they have done their time and don't want to get up at zero dark 30 for breakfast anymore!"
Curating the exhibition every year is a labor of love for Ferrand.
"Our military veteran residents have an extra special place in my heart," she said. "My father served in the U.S. Army for 25 years, and it is in his memory that I strive to serve each of our residents with my best every day. And now, I'm so proud that my son just graduated from Army basic training last month."