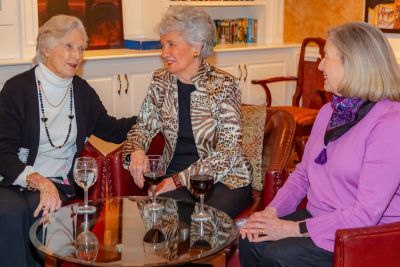 Older people are at increased risk of isolation for a number of reasons, such as lack of transportation, limited mobility, and the relocation or passing of friends and loved ones. This can be detrimental to their mental and physical health. Being or feeling alone for long periods of time can cause high blood pressure, increased production of stress hormones, poor sleep, depression, and more. That's why it's especially important for seniors to be part of a community. Studies show that there are many health benefits of social interaction:
Improved self-esteem
A sense of belonging and feeling connected with others
Improved physical and mental health
Living in a senior living apartment community can provide healthy opportunities to socialize in ways that feel natural and casual rather than forced or awkward. It also offers seniors ways to feel increasingly needed and supported as they get to know and form bonds with their neighbors. Best of all, apartment living means not having to go out in the elements or far from your front door to connect with people. Just a few of the benefits of social interaction in apartment housing include:
An instant, effortless community. If you're an introvert, your family members have busy lives, or you don't live near your friends, it can be difficult to find or enjoy social opportunities. But if you've ever lived in a college dormitory or elsewhere with peers, you know that sharing a living space with people in your age group offers ready opportunities for spontaneous, effortless socialization almost daily. Instead of having to plan meet-up logistics with friends, you can simply walk down the hall and knock on their door.
Easy ways to get to know people well quickly. It can take a long time to learn important details about friends and acquaintances you don't live with. In an apartment community, an act as simple as helping a neighbor carry their groceries in can give you a peek at their home, which can be productive and revealing. Admiring conversation pieces can spark easy conversation in which you learn meaningful things about your neighbors. You may even learn that you share interests or experiences.
When you live in a communal setting, it's easier to organize or meet people at casual gatherings like yard sales, happy hours, dinners, walking groups, book clubs, bingo or movie nights. You can find things to do throughout the month just by checking the community calendar. You're also likely to find other activities that take place elsewhere on campus.
Easier borrowing, lending, and sharing. In an apartment community, you can get to know your neighbors better just by borrowing or lending a cup of sugar or milk. This can also be much more convenient than going to the store when you only need one item, especially if the weather is bad, you're tired, or don't have a car.
Pet interaction and pet-sitting possibilities right where you live. If your senior living community allows pets in apartments, you'll meet neighbors with dogs, cats, and other pets. Sharing an apartment building with them makes it easier to interact with animals and their owners and go for dog walks together. If you make friends, you can even exchange pet-sitting favors if you're planning to travel. Living in a shared space makes it convenient for you and your neighbors to lend each other a hand with pet or even plant-watering
Enjoy the Social Benefits of Senior Apartment Living in Virginia
Rappahannock Westminster-Canterbury is a continuing care community (also known as a life plan community) providing the highest quality living experience for discerning senior adults. Situated on 165 beautiful acres outside the village of Irvington in Virginia's Northern Neck, RWC residents choose to live here for the independent and worry-free lifestyle afforded in a tranquil setting.
Our spacious Westlake Apartments on Wood Duck Lake offer plenty of amenities as well as opportunities to socialize and make new friends. RWC facilities are connected to the apartments, so you won't have to brave the elements as you move around campus. Rappahannock Westminster-Canterbury Inc. is a Virginia nonprofit corporation affiliated with the Episcopal and Presbyterian churches. All religions are welcome.
Find out more about apartment life at rw-c.org/apartments.