How Much Long-Term Care Will You Need?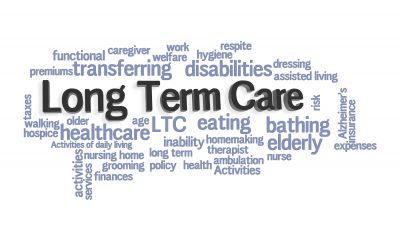 Depending on the source, statistics show somewhere between 50-70% of people over the age of 65 will require fairly significant long-term care services at some point in their life. This means they'll need assistance with at least a couple of activities of daily living, such as eating, dressing, or bathing, or a higher level of healthcare, for an indefinite period of time.
But, knowing the odds of needing long-term care is different from knowing how much care you may need. After all, the cost of long-term care is not inexpensive. According to Genworth's Cost of Care Survey for 2017, the average monthly cost of care ranges anywhere from $3,700 to $8,000 per month depending on the type of care, and it can be much higher in certain regions. These costs can begin to add up, particularly if you require care for an extended number of months or years.
Your Experience Will Likely Differ from the Averages
It is important to remember that regardless of what the averages reveal, your own experience could fall well outside of the averages on either end. Knowing the averages can help you plan but it is important to also plan for a variety of potential scenarios, which may be less likely statistically, but still very possible.
The Average Stay in Assisted Living
According to a 2009 report1 jointly prepared by a group of advocacy and research organizations within the assisted living industry, the average length of stay for residents in an assisted living facility is about 28 months. (The median is 21 months.) A separate statistic, provided by the National Investment Center (NIC) in their 2010 Investment Guide, cited the average length of stay in assisted living as 29 months. Keep in mind that many people who live in an assisted living facility first began receiving help in their home for some period of time, provided either by a paid caregiver or an unpaid family caregiver.
Care Doesn't Always End with Assisted Living
According to the National Center for Assisted Living, 59% of all assisted living residents will eventually move to a skilled nursing facility. And, according to the National Care Planning Council, the average stay in a nursing home is 835 days. (For residents who have been discharged, which includes many who have received short-term rehab care, the average stay in a nursing home is 270 days.) Keep in mind, however, that in recent years some assisted living facilities have begun offering higher levels of care, but stopping just short of skilled medical care. Therefore, it is reasonable to expect that the average length of stay in a true nursing home will come down over time.
Putting it All Together
In summary, it is not uncommon for someone to receive care at home for several months or longer, followed by a two and a half year stay in an assisted living facility, with almost 60% then requiring a nursing home stay of somewhere between nine months and a little over two years. For many older adults, this could translate into a total of 4-5 years of long-term care.
To find out if it makes sense for you to move to a Continuing Care Retirement Community and if RWC is a good financial fit for you, take this quick survey!
The above article was written by Brad Breeding of myLifeSite and is legally licensed for use.