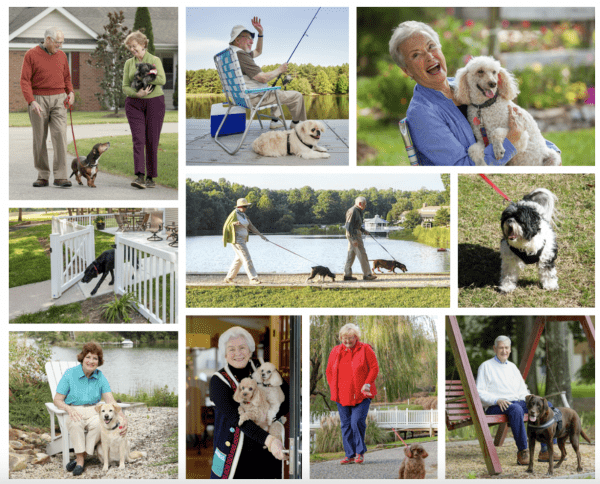 If you're considering moving into a retirement community but are worried about what will happen to your pet, there's good news: if you choose the right one, such as Rappahannock Westminster-Canterbury, you can take them with you.
Similarly, if you'd like to plan this move and are worried about feeling alone, there are many excellent reasons to adopt a pet after you settle in at a (pet-friendly) retirement community. Pets can help you live a healthier, happier, and even longer life. Their company is beneficial to people of all ages, but they are particularly important for senior health. Even if you don't have pets, many retirement community residents share they enjoy interacting with and playing with the pets of their fellow residents.
Here are some of the joys and benefits of owning a pet for seniors.
Physical Health Benefits of Owning a Pet
The physical benefits of owning a pet are quite extensive, particularly if you have one or more dogs. Dog walkinghas been shown to have a positive impact on senior health in the following ways:
Healthier weight. Seniors who walk their dogs regularly typically have a lower body mass index.
Improved mobility. The body is a use-it-or-lose-it organism. Walking your dog on a routine basis keeps your body moving and, as a result, conditions you for a continuing ability to move easily and often. Walking is also a great activity for seniors because it's a straightforward, low-impact form of exercise.
Fewer visits to the doctor. Senior pet owners often have fewer complaints requiring a doctor's care.
Longer periods of exercise. The more you enjoy walking with your pet, the longer you're likely to spend doing it. This is good for the physical health of both you and your pet, and it increases the strength of your relationship.
Fewer risks to heart health. Regular dog walking has been proven to lower blood pressure, cholesterol, and the risk of cardiovascular disease.
Longer life. All of the above health benefits can help you to live longer and enjoy a higher quality of life. Research suggests that dog owners in particular can have a 33% lower risk of dying compared to non-dog owners.
For seniors who have mobility limitations or are unable to keep up with the needs of a dog, cats also offer excellent companionship and many similar health benefits.
Mental Health Benefits of Owning a Pet
Seniors who own pets and are closely bonded with them enjoy the following mental health benefits:
Reduced loneliness. Dogs, cats, and other pets can be excellent companions. Particularly for seniors who have lost a partner or live alone, having a pet means having a comforting roommate to talk to and interact with each day.
Good overall brain health from exercise. Regular exercise isn't just good for your body; it's also good for brain health. It improves the flow of blood to your brain and reduces inflammation, among other benefits. Getting adequate exercise, such as walking your pet, can even reduce your risk of Alzheimer's disease and dementia.
More socializing opportunities. Pets are natural conversation starters when you take them out for walks (especially if you have a cat, pig, or other non-dog pet that can go on walks). They make it easy to socialize with others, which works particularly well for introverted seniors.
Reduced stress and greater happiness. A strong bond with your pet can reduce the levels of cortisol (a stress hormone) in your body and increase your levels of dopamine and serotonin, which are chemicals that make you feel happy. You can get these benefits every time you pet your animal companion.
Decreased anxiety and depression. The companionship of a pet helps seniors to feel less anxious and depressed. This is especially important for seniors who are lonely or have recently lost a loved one.
Improve discipline and daily structure. Every pet requires daily feeding and care, which means they are great for keeping humans on a regular schedule. Having a structured routine can help to improve your sleep, which in turn helps you manage stress and enjoy improved mental sharpness and energy levels.
Seniors who are considering or planning a move to a retirement community should look for pet-friendly ones with plenty of outdoor spaces for walking and exploration.
Enjoy Pet Ownership at Rappahannock Westminster-Canterbury
You can adopt a new pet or bring your current furry friend with you to our campus at Rappahannock Westminster-Canterbury. Animals are welcome at RWC, and you'll see many fellow residents taking their furry friends for walks throughout the campus. You can have pets in all living quarters except for the dining rooms or common areas, such as the Chesapeake Center.
Rappahannock Westminster-Canterbury is a continuing care community (also known as a life plan community) providing the highest quality living experience for discerning senior adults. Situated on 165 beautiful acres outside the village of Irvington in Virginia's Northern Neck, RWC residents choose to live here for the independent and worry-free lifestyle afforded in a tranquil setting.
At RWC, you're only a ten-minute drive from the Chesapeake Bay or the Rappahannock River as well as a variety of creeks, estuaries, and other rivers. You'll have access to all that our local freshwater and saltwater destinations have to offer, from outdoor recreation to dining on fresh local catches to boutique shopping.
Rappahannock Westminster-Canterbury Inc. is a Virginia nonprofit corporation affiliated with the Episcopal and Presbyterian churches. All religions are welcome. Read about our residence options and living our lifestyle!
Share This Story, Choose Your Platform!