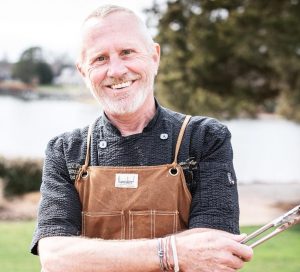 Pull up a chair and meet Chef TV (born Thomas Victor, but known as TV since he was a child) Flynn, a self-taught executive chef, who has worked at some of the finest resort properties across the country. From Westin hotels in Hilton Head and New Orleans to the Broadmoor Hotel in Colorado, he ended up spending 20 years at the Tides Inn in Irvington. Now the chef at Rappahannock Westminster-Canterbury, Chef TV is counting his lucky stars.
How did you end up at RWC?
I was ready to try something different instead of being so stuck in my ways as a resort chef for most of my life, so I ended up first working at a huge retirement community in Chesapeake. There were 450 residents, but I was commuting and thinking of moving to Newport News, but I wasn't digging all that traffic. [RWC CEO] Stuart [Bunting] heard I wasn't at the Tides anymore and asked me to come here.
How is RWC different from working at the Tides Inn?
I live eight doors down from the Tides Inn, so I could leave for work at 8:59 a.m. and be there by 9. Now I have a four-minute commute to RWC, so I tripled my commute (laughs). The biggest change is that dinner is over at 7 p.m. at RWC. At the Tides Inn, we would be just waiting to get busy at 7:30. I feel guilty that they are paying me to do this.
What do you like most about working at a retirement community?
People here are like resort guests. But you're in their home. I really miss seeing them every day now that we are social distancing. When our Lakeview Grill was open, I was on the line every night. I want their comments and feedback. Tonight, we're going to do 140 salmon dinners and 40 chicken dishes, and our staff will be delivering the meals. RWC residents always seem surprised to see their executive chef deliver their food. We're working extra hard right now to keep everyone safe. I feel privileged and blessed to be working.
Have you had any difficulties getting fresh produce or seafood?
We are not missing a beat. Because so many places are closed, food wholesalers like PFG and Sysco are happy we are open and are delivering top-quality products. We're going to be getting our first soft shell crabs. We're getting local rock fish and our oysters locally from Weems.
What do you do in your spare time?
I bike 20 miles a day. I'm a Tour de France kind of guy. I'm also an avid fisherman – red fish, trout, stripers … Every place I've ever worked has been seafood driven. If I weren't a chef, I'd be an artist. I really like the creative aspect of it. I do a lot of driftwood collecting on the Rappahannock River and have a house full of driftwood art I've created. I have so many carvings out in front of my house that sometimes people will knock on the door and try to buy a piece. I'll sell it to them if they are persistent enough.
Tell me about some interesting experiences or stories from your time at the Tides Inn?
When Tom Cruise and Steven Spielberg were filming a movie ["Minority Report," 2012] nearby, they landed their helicopter on the Par 3 golf course and stayed here. President Clinton golfed at the Golden Eagle. Senators stayed here and it was super secret. Their security detail was checking for bombs and they had special furniture that could check air quality and possible germ warfare. But the story that stands out to me is that we had some guests dock their yacht at the Tides and I sent a new dishwasher to go help them with their luggage in a golf cart. They had all kinds of designer clothes and shoes, Gucci handbags and all. He got out of the cart and forgot to put the brake on, and all their luggage went down the ramp and right into Carter's Creek!
While at the Tides Inn, you are credited with inventing the Lancaster lemonade and Angry Oysters. What are you most proud of from your time there?
We started the Crab Academy and the Oyster Academy where you take people out on a boat and you teach them how pull up crabs, shuck and roast an oyster. Teaching people how to make crab cakes and interacting with guests was my favorite part.
What is a challenge for you right now?
I'm still getting to know all of the residents. Many of our staff members have been here for years and they know the residents' names, their children's names, their likes and dislikes. They'll say, "She's allergic to that," or this one can't have broccoli." I'm constantly amazed by that. I don't know everyone yet, but I'm learning!
Chef TV Flynn's easy summer appetizer recipe (download the recipes)
Asparagus and Goat Cheese Bruschetta
16 asparagus spears (trimmed and blanched)


4 slices French baguette
5 T goat cheese
1 cup young arugula
2 t local honey
1 T Olive Oil
Directions:
Preheat a grill pan over high heat or use an outdoor grill if preferred.
Brush the baguette slices with quality olive oil and grill until lightly browned on both sides.
In a small bowl, gently blend the goat cheese and the arugula and remaining olive oil.
Lightly spread on 4 toasted bread slices.
Arrange the asparagus spears on top and drizzle each bruschetta with honey.
Cracked pepper to taste
Balsamic Honey-Dijon Vinaigrette

1 clove garlic (finely chopped)
1 1/2 t Dijon mustard
1 1/2 t local honey
1/2 t sea salt
1/4 t black pepper
1/4 cup balsamic vinegar
3/4 cup extra virgin olive oil
Directions:
Place all ingredients in a mason jar with a screw top lid and shake well to blend.
Serve this dressing over freshly grilled asparagus.
Chef Flynn Career Timeline
Executive Chef
RWC
December 2019 – present
Executive Chef
The Tides Inn
March 2000 – Dec. 2019
Executive Sous Chef
Broadmoor Hotel
December 1994-December 1995
Executive Sous Chef
The Westin Hilton Head Island & Resort
April 1990-December 1994
Management Exchange Program
Westin Maui, Hawaii
November 1990-February 1992