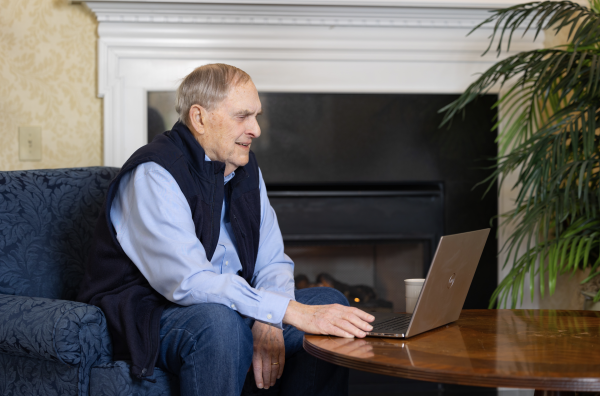 If you or a loved one is contemplating senior living options, it's understandable that you might have questions or concerns about the cost of retirement communities. Yet as with any other major decision in life, it's always best to do your homework before acting. For many reasons, financial and otherwise, continuing care retirement communities (CCRCs) can offer you far more bang for your buck (and far less hassle) than other senior living community types.
Don't let common misconceptions about the cost and financial structure of CCRCs deter you from exploring this option. Here are some personal finance myths about senior living at a CCRC — and the facts you need to know.
Myth 1: CCRCs Are Unaffordable
Fact: CCRCs can be an affordable option for many seniors. The biggest expense is usually the upfront entrance fee, which funds long-term capital improvements within the community. These fees make it possible for the community to offer reduced monthly service fees, giving residents more financial breathing room.
When you consider the cost of staying in your home vs. moving to a CCRC, it's important to remember that your current mortgage payment isn't the only cost of aging in place. You'll also have other living expenses, such as:
Home insurance
Home repairs
Property taxes
Utility bills
Landscaping fees
Groceries
Cable TV or streaming services
Safety and mobility product installations (grab bars, shower seats, ramps, stair lifts, etc.)
At a CCRC, your entrance and monthly service fees cover most of the above — and they simplify your finances, as you won't have to keep track of multiple bills for various companies. What's more, your CCRC fees often also cover services you may need in the future that would present additional cost burdens if you stayed at home, such as:
Home healthcare assistance
Meal planning and preparation
Housekeeping
Transportation and driving
Personal assistance
In addition, some nonprofit CCRCs even offer a benevolence fund to ensure residents do not have to move if they outlive their financial resources. You may also be able to get a special rebatable contract that guarantees a percentage of an entrance fee will be rebated when a resident passes away or leaves.
Myth 2: CCRCs Are Risky Investments
Fact: CCRCs are generally safe and well-regulated. Most states provide strong oversight, and if a CCRC doesn't maintain certain levels of reserves, the state may intervene. Contracts often include clauses about how much of the entrance fee will be reimbursed if you leave the community or pass away.
Nonprofit versions offer even more transparency, as they are required to file annual financial reports with the IRS (Form 990), and you can access these on Guidestar.org. Although these are a great way to start investigating a CCRC's financial stability, you should also request a statement of financial position or balance sheet from those you are interested in. Consider hiring an elder care attorney to review CCRC financial statements and residence contracts to help you make a worry-free decision.
Myth 3: You Have to Sell Your Home to Afford a CCRC
Fact: While many residents do sell their homes to pay the entrance fee, there are other financial strategies you can use, so it's important to consider which is bestfor you. Alternatives to selling your home include:
Long-term care insurance
Savings
Investments
A bridge loan
A reverse mortgage
Renting out your home
Holding an estate sale
Financial assistance from family members
Myth 4: Reverse Mortgages Are Not an Option
Fact: Reverse mortgages can be a viable option for senior homeowners considering a CCRC. The Home Equity Conversion Mortgage (HECM) is a popular reverse mortgage program that allows seniors to tap into their home's equity to finance the entrance fee or monthly service fees at a CCRC. Payments in these programs are deferred until after your home is sold or until you pass away. Even with a reverse mortgage, you won't give up ownership of your home.
Understanding the financial aspects of CCRCs can alleviate many concerns and help you make an informed decision. CCRCs offer a variety of financial options and are generally safe investments. Before making any decisions, consult with financial advisors and read the contract thoroughly to understand your rights and obligations. By doing so, you can make a more informed decision about whether a CCRC is the right choice for you.
Enjoy Affordable Senior Living at Rappahannock Westminster-Canterbury
Rappahannock Westminster-Canterbury is a continuing care community (also known as a life plan community) providing the highest quality living experience for discerning senior adults. Situated on 165 beautiful acres outside the village of Irvington in Virginia's Northern Neck, RWC residents choose to live here for the independent and worry-free lifestyle afforded in a tranquil setting. Try out our retirement community cost calculator to find out if we're a good financial fit for you.
At RWC, you're only a ten-minute drive from the Chesapeake Bay or the Rappahannock River as well as a variety of creeks, estuaries, and other rivers. You'll have access to all that our local freshwater and saltwater destinations have to offer, from outdoor recreation to dining on fresh local catches to boutique shopping.
Rappahannock Westminster-Canterbury Inc. is a Virginia nonprofit corporation affiliated with the Episcopal and Presbyterian churches. All religions are welcome. Read about our residence options and living our lifestyle!
Share This Story, Choose Your Platform!