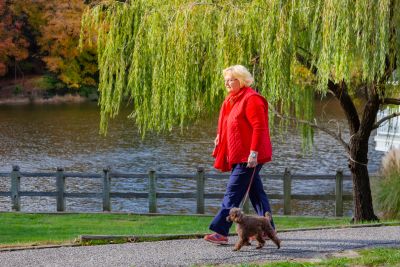 You've done it: after researching and touring several senior living communities, you've chosen the one that will be the best fit for you. Better yet, you've made the wise decision of selecting a continuing care retirement community (CCRC), which will allow you to enjoy independent living while also offering all the personal and medical support you'll need for the rest of your life—all right on the same campus. If you've chosen a nonprofit CCRC, you'll have even more peace of mind knowing that your new community will prioritize your needs, not their profit margins.
Now all that's left is to decide on a moving date. If that's the case, you may be wondering what time of year would be best for transitioning to your new community. Although autumn can be a great time to move for anyone, it may well be the best time of year to move for seniors in particular. Here are some excellent reasons to plan for a moving day in the fall:
It's a great time to sell your home. Although late spring and summer are popular seasons for selling homes, there are also advantages to doing so in the late summer or early fall. Autumn foliage and tasteful harvest decor can make your home more colorful, attractive, and inviting, and the weather is still pleasant enough to draw people to open house events. In addition, with less inventory on the housing market in the fall, you may be able to command higher selling prices from buyers who need to make a fall move.
It's great weather for moving. Particularly if you live in a humid climate, packing and moving in the summer can be a sticky and exhausting operation. Conversely, if you do so in the winter, you (and your movers) may have to contend with ice and snow hazards. Fall temperatures are quite comfortable in many climates, and there is still daylight in the early evening hours. All of this makes it easier to enlist help from friends and family, who will benefit from working in optimal conditions as well.
Movers are less expensive to hire. Because summer is the peak moving season, moving companies are in higher demand, and their fees are higher too. As with tourism-driven hotel rates, there is usually a specific date on which prices drop again, which you can find on the company website or by requesting a quote. You can reduce your moving expenses (while still enjoying great weather) by hiring movers on or right after this date. You'll also have an easier time finding movers who have availability then.
Enjoy fall activities at your CCRC. Particularly if autumn is your favorite season, you won't want to miss out on all the festive activities available at your CCRC. Common opportunities include Halloween pumpkin carving and costume contests, Veterans Day celebrations, fall holiday outings and gatherings, flexible Thanksgiving dinner options, and more.
Enjoy fall activities in the surrounding community. Autumn lovers will also want to explore their new locales, if applicable, or enjoy annual fall traditions in familiar ones. Savor the season by getting outdoors, picking apples or pumpkins, visiting wineries (consuming moderate amounts of wine can lower your risk of heart disease), going downtown to look at colorful store windows, or even living on the wild side by touring a haunted local spot.
Get settled in before the winter holidays. One of the biggest factors that make autumn the best time to move is the fact that a fall move allows you to get settled in well in advance of the winter holidays. You'll feel cozy and well-adjusted to your new life by the time you begin to make holiday plans, put up decorations, and shop for gifts. You'll also be able to participate in your CCRC's holiday activities, such as caroling, door decorating contests, and giving opportunities.
Enjoy Autumn at Rappahannock Westminster-Canterbury
Rappahannock Westminster-Canterbury is a continuing care community (also known as a life plan community) providing the highest quality living experience for discerning senior adults. Situated on 165 beautiful acres outside the village of Irvington in Virginia's Northern Neck, RWC residents choose to live here for the independent and worry-free lifestyle afforded in a tranquil setting.
At RWC, you're only a ten-minute drive from the Chesapeake Bay or the Rappahannock River as well as a variety of creeks, estuaries, and other rivers. You'll have access to all that our local freshwater and saltwater destinations have to offer, from outdoor recreation to dining on fresh local catches to boutique shopping.
Rappahannock Westminster-Canterbury Inc. is a Virginia nonprofit corporation affiliated with the Episcopal and Presbyterian churches. All religions are welcome. Read about our residence options and living our lifestyle!
Find out if RWC is a good choice for you
Share This Story, Choose Your Platform!