Autumn is a time for community, culture, and culinary exploration. For the best experience, it's hard to beat fall festivals in Virginia. With leaves turning fiery hues and temperatures cooling, the state bursts into life with exciting seasonal events that bring families and friends together. If you prefer to avoid big-city crowds and traffic, Virginia's Northern Neck offers all the joy of Virginia fall festivals in the picturesque setting of smaller communities. In fact, you may just want to retire here to enjoy these events year after year!
Here's a look at some of the most anticipated fall festivals and events in the region.
October 7: Yorktown Wine Festival
Wine lovers will relish the opportunity to sample wines from local vineyards at the Yorktown Wine Festival. The event features tastings, winery tours, and educational sessions, providing a delightful experience for both novice wine drinkers and seasoned connoisseurs.
October 14: Tappahannock Crab Feast
Craving seafood? The Tappahannock Crab Feast brings together locals and visitors for a feast of blue crabs, music, and community fun. This family-friendly event embodies the spirit of Chesapeake Bay and its beloved crabbing tradition.
Mid-October: Taste of Middlesex Festival
This annual festival celebrates the flavors and culture of Middlesex County. Food lovers can enjoy an array of dishes from local restaurants, accompanied by live music, art exhibits, and crafts. With its focus on community engagement, the Taste of Middlesex Festival provides a glimpse into the area's rich culinary traditions.
October 22: Yorktoberfest Craft Beer Festival
For those who prefer hops to grapes, the Yorktoberfest Craft Beer Festival is a must-visit. Although traditional German Oktoberfests take place in the second half of September, York County has its taps flowing in late October. This festival highlights the best local craft breweries, offering beer tastings, food trucks, and live music. Celebrate Oktoberfest the Virginia way!
October 26–28: Newport News Fall Greek Festival
Experience Greek culture at the Newport News Fall Greek Festival. Taste authentic Greek cuisine, enjoy traditional music and dance performances, and explore a market filled with artisan products. This festival allows you to immerse yourself in Greek heritage without leaving Virginia.
October 28: Urbanna Crawl-o-Ween
For a Halloween experience with a twist, Urbanna Crawl-o-Ween offers a unique bar crawl experience. Don your favorite Halloween costume and enjoy special offers at participating establishments. It's a thrilling way to explore the local nightlife — responsibly, of course — and stay young at heart.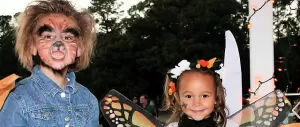 October 31: Irvington Halloween Costume Contest
Halloween in Irvington takes on a festive twist with the annual Halloween Costume Contest. Whether participating or spectating, this event promises an evening of creativity, laughter, and community bonding. Children and adults alike can show off their best costumes and join in the fun.
November 3-4: Urbanna Oyster Festival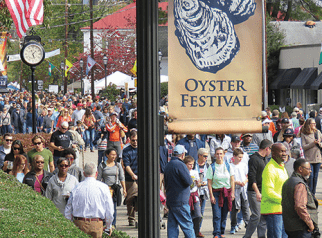 Oyster enthusiasts, mark your calendars! The 66th Annual Urbanna Oyster Festival, known as Virginia's official oyster festival, showcases the region's freshest oysters, seafood dishes, and traditional maritime culture. With parades, shucking contests, and live entertainment, it's a two-day celebration that can't be missed.
November 10-12: The Bodacious Bazaar
Hampton's annual Bodacious Bazaar brings together a vibrant mix of artisans, crafters, and vendors. Set against the backdrop of Hampton's picturesque landscape, the event offers a unique shopping experience featuring handmade goods, art, jewelry, and local products. Enjoy gourmet food and beverages, live entertainment, and activities for children, making it a family-friendly affair.
November 23: Irvington Turkey Trot
Get active before your Thanksgiving feast at the Irvington Turkey Trot. This annual run includes races for all ages, promoting health, fitness, and community spirit. It's a tradition that unites the town and welcomes the holiday season with open arms.
Enjoy Virginia Fall Festivities at Rappahannock Westminster-Canterbury
Rappahannock Westminster-Canterbury is a continuing care community (also known as a life plan community) providing the highest quality living experience for discerning senior adults. Situated on 165 beautiful acres outside the village of Irvington in Virginia's Northern Neck, RWC residents choose to live here for the independent and worry-free lifestyle afforded in a tranquil setting — as well as access to popular seasonal festivals and events.
At RWC, you're only a 10-minute drive from the Chesapeake Bay or the Rappahannock River as well as a variety of creeks, estuaries, and other rivers. You'll have access to all that our local freshwater and saltwater destinations have to offer, from outdoor recreation to dining on fresh local catches to boutique shopping.
Rappahannock Westminster-Canterbury Inc. is a Virginia nonprofit corporation affiliated with the Episcopal and Presbyterian churches. All religions are welcome. Read about our residence options and living our lifestyle!
Share This Story, Choose Your Platform!